DIY upcycled light fixture bases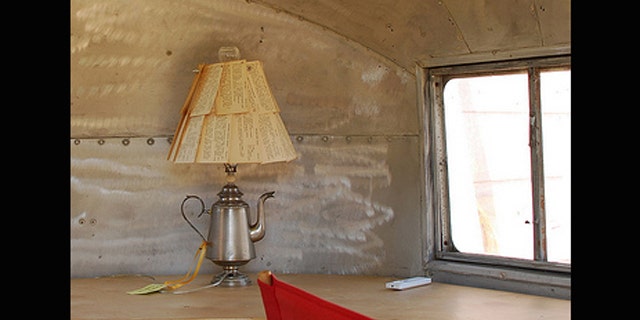 One of the most decorative and yet utilitarian items for the home is the lighting, in particular decorative lighting such as table or floor lamps and hanging fixtures. While the standard urn shaped base topped with a round shade is always the easy go-to, there are so many other distinct ways to light your space in style. Best of all, there are many creative DIY options when it comes to shades and bases that won't break the bank.
Nearly anything that is sturdy and can be drilled can be turned into a lamp base. While it's not a great idea to drill into a priceless antique, there are many old pieces that have been given new life when they are converted into beautiful lamps.
Galvanized milk jugs: Back in the late 60's, my Dad had a pair of vintage galvanized steel milk jugs turned into lamp bases and topped with burlap barrel shades. These lamps were in regular use in the family home for nearly 30 years and never went out of style. With vintage and upcycled goods being all the rage currently, this pair of lamps would still be in demand.
Metal baskets: In 2010, the HGTV Green Home in Plymouth, Massachusetts featured a quirky pendant light over the dining table that was made from an inverted metal basket hung from a chain. While that particular piece came from Found in Houston (an emporium that sells unusual light fixtures restored rewired by Houston electricians, as well as high end restored home furnishings), it would certainly be an easy project to fit out any similarly shaped basket with a light kit, found at any home improvement store.
Antlers, real or fake: We've seen many antler chandeliers in home design circles recently, but there is no reason why a small portion of a rack couldn't be turned into a unique table lamp base, as long as it can stand upright.
Old books: Looking for a distinct table lamp for a library or to inspire your kids to study? How about creating a lamp base from a stack of vintage or out of date books that have been drilled through the center? Glue the books together and run a lighting kit through the middle and top with a decorative shade. Similarly, old silver or porcelain teapots make sweet little table lamps and a pair of tall leather riding boots can be turned into a couple of stylish table lamps.
Metals: In addition to an inverted metal basket as detailed above, pendant lights can be created from nearly anything that is impervious to the heat of a light bulb. Wrap a wire frame with wool yarn for a cozy fixture, or hang a colorful metal colander in a kitchen for a country casual look.
Luxury goods boxes: If your teen is shopping obsessed, create a colorful lamp base made from stacking assorted sizes of Tiffany or Hermes boxes and running a light kit through the middle. For lighter weight objects such as boxes, it may be necessary to affix them to a sturdy wooden base or you might simply fill the bottom box with sand or stones for added weight.
Where ever your interests lie, there is certainly a lamp to fit your style. If wiring a lighting kit, or drilling into a found object seems a bit out of your league, a local lighting store should be able to point you in the direction of a handyman who can assist you.
Linda Merrill wrote this for Networx.com.