DIY Deck building advice from a contractor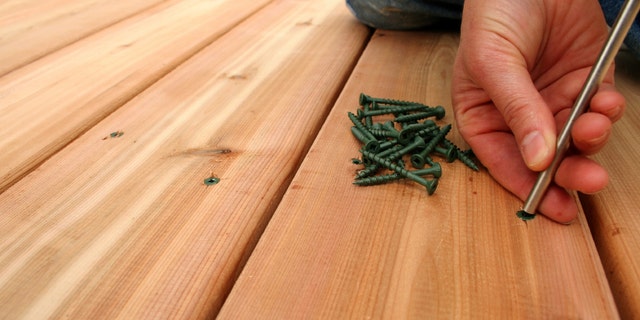 With spring in the air, building a deck might be on your mind. Building a deck is not as hard as you might think, and if you follow some basic guidelines it can be a great DIY project.
Bit of Advice #1: Build Your DIY Deck Level
Decks are built to add living space to a home and every one of them should be built nice and level. For some home sites this is pretty easy, as many back yards or areas around the home are relatively flat. Here in Colorado, flat is rare – my deck starts at ground level near the front door of my home, while the far side of my deck is about 15 feet off the ground.
Bit of Advice #2: Get a Permit before Attempting to Build Your Own Deck
Most municipalities require that decks be approved by the local building dept. Low free-standing decks may not require full permitting, while 2 story complex decks may require fully engineered plans. It is always best to check with your local permit office before you get started.
Bit of Advice #3: Build Your DIY Deck on a Firm Foundation
Over the years I have seen some great deck designs which I would be proud to call my own. But more often than not, many of the deck repairs I do as a Denver-area contractor are due to shortcuts the original builder used during the initial construction. I have done demo on some decks where the deck's support columns were simply set on the dirt. Others had been set on rocks, blocks and some wimpy poured footers.
Like with most home builds a sturdy foundation results in a sturdy project. The key to a good start is a solid foundation. The most common base I use is a poured footer in a Sonotube®. For this type, a hole is dug to frost depth and a cardboard tube form is installed. Concrete is mixed and then poured into the tube, and then an anchor bolt is then inserted in to the wet concrete. After the concrete has set the form is removed and the hole is back filled and a post bracket is mounted. The anchor bolt/post base provides both compressive and uplift resistance. This is repeated for each of the deck's support columns. Does this sound intimidating? You could always hire a concrete contractor to pour your foundation, even if you are choosing to build the deck yourself.
Bit of Advice #4: Choose the Right Framing Material
The framing of a deck is what the "decking" is mounted to and it provides the "skeleton" of the design. Some types of decking can span long distances while others require a tighter spacing of the joists. Your local climate will also dictate some of these parameters. Snow and wind loads vary from place to place and the material choices will also affect the design. I like to use pressure treated wood for all of my framing, as in my experience it provides the best long-term durability.
Bit of Advice #5: Hardwood Decking Stands the Test of Time
Up to this point most decks are pretty much the same…concrete and pressure treated lumber are pretty universal, as are pressure treated framing joists. Your choice of decking and the railing system can set your deck apart from others. Ages ago there were only a handful of choices available: decks were built from Redwood, Cedar or Pine. Today these options are still available, but we now have dozens of synthetics and hardwood options.
The deck on my home is about 650 sq feet and is built from a dense, fire-resistant hardwood called Ipe (pronounced "ee-pay"). I rebuilt my deck 15 years ago and because of Ipe's great long long-lasting properties it still looks new today. My favorite material is still Ipe, but I concede that a lot of the synthetic materials look good and have reduced maintenance. My eco-minded brain prefers a natural product that is not petroleum-based. A hardwood deck that can last 60 years or more is a sound investment. With proper care, a hardwood deck can usually outperform some lesser composites. Add the natural beauty and sustainable nature of real wood and you can see why hardwoods are popular for decking.
Kevin Stevens writes for Networx. Get home & garden ideas like this on Networx.com.