Designer picks: discrete desks for small spaces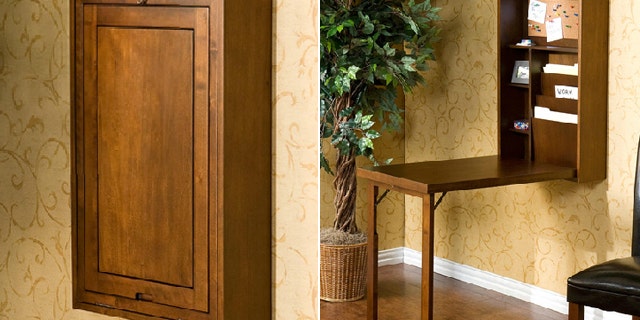 More and more of us are working from home whether we're self-employed or bring work home from the office. If you're looking to set up a home office that is more efficient than your kitchen table, but have a shortage of available space, you're in luck. There are many products on the market that provide efficient working space that can be folded away out of sight at the end of the workday. Here are a few of my favorites:
Campton Office Armoire from Pottery Barn: The Campton Smart Technology™ Office Armoire is a complete desk system with room for a large monitor, cubbies for storage, and space for a printer, all within a 41" wide box. A Smart™ strip in the main compartment provides a centralized plug-in point for laptops, cameras and other electrical devices. The keyboard pullout drawer even features built-in storage boxes for small items like paperclips or stamps. ($1,799)
Holt Office Tower from Pottery Barn: If the Compton desk is too large for your space, the petite Holt Smart Technology™ Office Tower is only 29.5" wide. While it only accommodates a laptop size computer, the pull down drawer and efficient shelf compartments make this a great option for those with space challenges. The desk features a handy Smart™ Strip for peripherals and pull out lower drawer for file storage. ($899)
The Ledge from Urbancase: For the truly space challenged, The Ledge is more of a writing desk than a computer work station, but it does feature hidden cord system to plug in computers and peripherals. This is minimalism at its most refined and will appeal to those who appreciate fine craftsmanship (it's made by carpenters in Seattle). The desk mounts to a wall and is 42" wide by 17" deep, but it's only 7" tall. When closed, it could double as a handy sideboard or bar; a great use of space in small environments. ($1,300-$1,500)
Sekretar Flatmate from Magazin: German engineering is well known and the Sekretar Flatmate is engineered for performance. This desk takes modern minimalism to the extreme, yet harkens back to the days of a traditional secretary desk. A pull down desk top reveals a well organized interior with shelves for storage and an electrical strip for plugs. The base opens up on the side for additional storage. When closed, this desk is 28" wide by 5" deep. (999 Euros)
Fold-Out Convertible Desk from Solutions: The Fold-Out Convertible Desk is a micro- workspace that folds up to look like a simple wall cabinet. When opened, the writing space is approximately 20"x30" yet closes up to a 5" deep cabinet. Inside there are spaces for file folders, pens and even a small corkboard to pin up messages. ($229.00)
Grove Office Center from Room and Board: This fine piece of furniture will look beautiful in any space, including a formal living room. The solid walnut construction is styled with a Shaker meets Mid-Century modern aesthetic. When closed, the piece is 37" wide by 16" deep. There is a file drawer, adjustable shelves and wire management system. ($1,999)
Linda Merrill writes for Networx. Get home & garden ideas like this - http://www.networx.com/article/designer-picks-discrete-desks-for-small - on Networx.