Designer Picks: 7 Wacky Christmas Tree Ornaments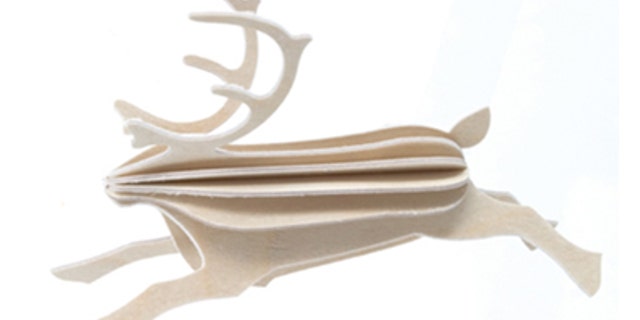 "It's beginning to look a lot like Christmas," as the song goes, and its time to start pulling out the old ornaments and possibly adding to the collection.
I think one of the nicest Christmas gifts is the gift of an ornament. It can mark an occasion, such as "our first Christmas" or be theme oriented, much like a charm bracelet. Over time, our ornament collections become scrapbooks of our lives. Of course, not every ornament need be sentimental, or even particularly beautiful.
Here's a fun group of eye-catching, sometimes silly, sometimes surprising Christmas tree ornaments that might be the perfect choice for someone with a sense of whimsy.
Lovi Oy Reindeer: The Lovi Oy Reindeer is a fun little DIY ornament that comes in pieces with assembly instructions. Made in Finland, these little construction kits are made of a thin birch plywood and come complete with string to hang.
Gracious Home's Old World Christmas Pickle: The story goes that there is a German tradition of hiding a pickle on a decorated tree. The first child to find the pickle receives an extra gift, or if it's an adult, they receive good luck. There seems to be some question as to whether this is a true custom, but the Christmas Pickle ornament has become a popular gift to give.
Think Geek Motherboard Christmas Ornaments: These unique ornaments are made from recycled motherboards and will delight your favorite tech fan. These ornaments come three in a gift box and shapes and colors may include: bell, tree, candy cane and star in red, blue or green.
Seletti Pantone Xmas Ball: The Pantone Xmas Ball is a colorful addition to the tree and is sure to please graphic designers, interior designers or anyone who works and plays with color. These are beautifully made from glass and come in a variety of popular Pantone colors.
Jonathan Adler Giraffe Ornament: This small Giraffe Ornament is a copy of designer Jonathan Adler's larger porcelain ceramic giraffe, his take on mid-century modern ceramic arts. This would make a wonderful first Christmas gift for the mod baby, or fun and funky hipster.
BBC Dr. Who Ornaments: The long running BBC science fiction show "Dr. Who" has gained legions of fans in its nearly 50 years on television. It is, in fact, the longest running show of its kind in television history and two of the most well-known icons of the show are the TARDIS (the time-travel ship shaped like a British Police Box) and the Dalek – a menacing robot. BBC is offering TARDIS and Dalek Glass Ornaments for the "Whovian" on your list.
CB2 Recycled Cockroach Ornament: The Recycled Cockroach ornament will certainly bring out the "ick" factor to some, but to others, these indestructible creatures are sure to please as they are made in West Africa from discarded metal cans. Each item is one-of-a-kind.
Linda Merrill is a Networx - http://www.networx.com - writer. Get home & garden ideas like this - http://www.networx.com/article/designer-picks-7-wacky-chirstmas-tree-o - on Networx.