Designer Chairs Just for Dogs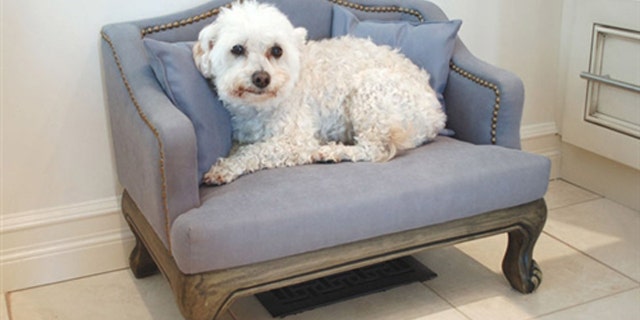 Man's best friend comes in all shapes and sizes, much like mankind itself. Dogs love us unconditionally and miss us desperately when we leave the house. They read our emotions, celebrate with us when we're happy and comfort us when we're sad. And in return, most of us treat our dogs as members of our family. They sleep in our beds, eat our food and curl up in our laps – even the big dogs. Isn't it time that you get your canine companion his own chair? After all, there are times when it's just not comfortable to have a dog sitting in your lap. Here are six dog chairs that will have your best friend sitting pretty:
Dogirondack Chair: The classic Adirondack chair has been modified to accommodate dogs of different sizes. The Dogirondack Chair comes in small and large sizes and holds water and food bowls. Perfect for a quiet afternoon on the lake. $169-$199
Eden Dog Furniture's Amelia Chair: Formal elegance is the name of the game for the Amelia Chair. This petit upholstered chair will have your dog lording it over all the other household pets, and possibly some humans too. $399.97
Coleman Bone Lounger: While dogs were meant to work outside, not all of today's pampered pooches like to sit on the cold ground. With the Bone Medium/Large Lounger from Coleman, you can bring your fussy dog with you on your next camping trip without risking wet or cold paws. $43.99
DJ Pets Leopard Dog Chair: Your pooch will be purring like a feline, or the conquering hero, in the leopard print dog chair. This wood framed and upholstered chair will be right at home in the family room or basement rec room. $196.99
DJ Pets Pink and White Polka Dot Chair: This pink and white polka dot dog chair is a confection that may not be right for a more masculine dog, but Gigi or Trixie will certainly feel right at home. $251.99
Wood and Fire Upcycled Antique Dog Chair: Vintage style is all the rage right now, so your dog will be right on trend. This antique dog chair has been upcycled from an old and run down turned wood chair. By sawing off the legs, the height is perfect for even small dogs. They even added additional rails for more side support. $125.00
Ikea Hundstol: The perfect chair for your best friend. (The Hundstol was actually an April Fool's Day joke by Ikea of Australia, but I think they'd have a market for it!)
Linda Merrill is a Networx - http://www.networx.com - writer. Get home & garden ideas like this - http://www.networx.com/article/designer-picks-dog-chairs - on Networx.