Create a pro-style kitchen in your home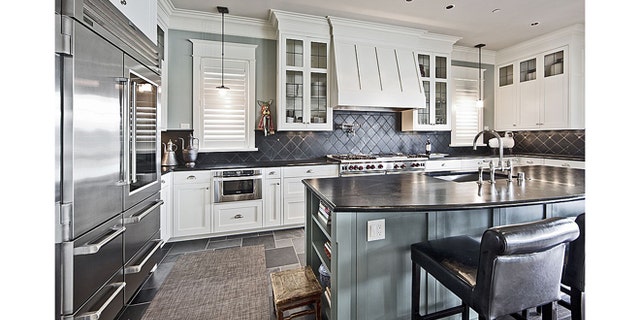 Homeowners who regularly cook and entertain need kitchen spaces that are functional, efficient and beautiful. Even if your culinary creations are more often inspired by Chef Boyardee than Chef Gordon Ramsey, the right layout, surfaces, sinks, storage and appliances can make your kitchen a star.
The terms "chef's kitchen" and "gourmet kitchen" are tossed around a lot these days. Within the real estate world, they generally indicate high-quality finishes and professional-grade appliances. In a broader sense, they indicate the use of features -- such as open storage and easy-clean surfaces -- that chefs use in their professional kitchens. Incorporating some of these professional-style amenities will go a long way toward making your new or remodeled kitchen a place where culinary magic happens.
Sink sensations
Want to speed through prep and cooking without spreading germs throughout the kitchen? Touchless faucets have sensors that allow you to turn them on or off with a wave of your hand. A number of manufacturers offer these high-tech faucets; check out Kohler's Sensate or Moen's MotionSense to see a sampling of what's available.
If you're serious about cleanup, you might want to install a restaurant-style sprayer. These faucets, priced between $600 and $1,200, generally have a high-arc spout with a high-pressure pullout nozzle to blast food off plates. Traditional commercial faucets are too large for most residential situations, but some manufacturers, such as Blanco have created smaller versions of these pro-style sprayers for use in home kitchens.
Of course, you'll need a pro-style sink to go with your pro-style faucet. Deep, wide bowls with flat sides and slightly curved corners provide maximum usable space and easy cleanup.
Let there be light
"From recessed to accent and under-cabinet lighting, LED is hot," said John Petrie, 2013 National Kitchen & Bath Association (NKBA) president-elect. "At our industry trade show, one of our cabinet manufacturer members had integrated LED lighting into the cabinet that turned on and off as the cabinet was accessed. This was a show stopper and very popular."
The best kitchens have layers of light: Task lighting is essential over prep areas and the cooktop, stylish pendants over the eating space put meals in the best light, while recessed ceiling lights provide overall lighting and ensure there are no dark spots.
Open floor plans
People who love to cook often love to entertain -- or at least interact with the family while they're cooking. Kitchens that physically flow into family or living spaces make that connectivity possible.
Additionally, many home chefs enjoy the company of others who are passionate about food, so it should be no surprise that there's increasing demand for gourmet kitchens that can accommodate multiple chefs. Of course, size alone won't make a kitchen attractive to foodies: The space has to flow efficiently. Consider installing dual sinks, dishwashers and even refrigerators, as well as an island or peninsula that allows for multiple prep areas.
Pro-grade appliances
Professional-grade appliances often take up more space than their standard counterparts, but they can provide extras that -- if you really love cooking -- make them worthwhile. A pro-grade refrigerator, for instance, allows you to keep plenty of fresh produce and cold beverages on hand. Most models also give you the ability to set separate temperatures for their various compartments.
Drawer-style dishwashers, especially when you install two, can make cleanup more efficient. Similarly, many home chefs have begun to install multiple ovens in their homes; having standard, convection and microwave ovens ensures you'll always have the right tool for any task. Many of the most well-appointed kitchens feature built-in, integrated appliances.
"While stainless steel finishes remain popular, especially in high-end professional-style appliances, the ability to integrate, or 'hide,' your appliances is very popular," Petrie noted.
Surfaces matter
Counter surfaces that can't have hot pots placed on them will be burned, those that can't be cut on will be scratched, and those that stain will eventually be discolored. It's just a matter of fact. If you really use your kitchen, you'll want to choose the most durable (i.e., heat-resistant, scratch-proof, stain-resistant) surface that fits within your budget.
Petrie says he tries to arm clients with information that allows them to select products that work for them.
"For instance, I would discuss their desire for a white marble countertop," he said. "While the look is fantastic, the attention required to maintain it is much greater than the same look and feel they will get with a manufactured stone product."
Make it convenient
Most commercial kitchens store dishes, bowls, utensils -- everything -- on open shelving. Professional chefs, after all, don't have time to dig through drawers to find whisks or measuring cups. Restaurant-inspired stainless steel shelving may be a little too industrial for many home kitchens. You can soften the look by using wood or painted shelving.
Or, you may decide to forgo open shelving and rely instead on features hidden away inside cabinets, such as roll-out shelves, pull-out spice racks and lazy susans.
Related: