Cool Cleaning Gadgets for Pet Owners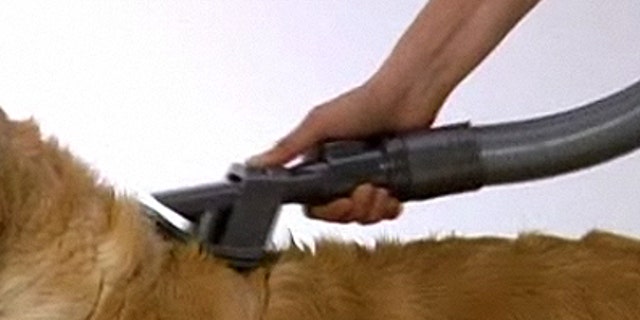 While owning a pet can be a rewarding experience, cleaning up after one can often be a hassle. Fortunately, there are plenty gadgets on the market that promise to do the hard work for us. Unfortunately, not all those gadgets are worthwhile. So we've reviewed a few products to find out which ones will actually save you some time and effort.
Roomba Pet Series ($499.99)
A must-have for pet owners that don't want to spend too much time cleaning up after Fido, the Roomba Pet Series 572 is designed for those with above-average vacuuming needs. However, while it performed admirably with moderate amounts of pet hair, the little 'bot does have a tendency to seize up when too much fur clogged its underside. When this happens, you need to dismantle the entire machine to clean it out, making it nearly as high-maintenance as some pets. But for those who really can't imagine hauling out a regular vacuum during shedding season, there really is no other choice.
Bissell Pet Hair Eraser ($149)
If you're looking for a cheaper option to clean up your pet's mess, check out the Bissell Pet Hair Eraser upright vacuum. The Bissell comes with a number of attachments specially designed to clean the nooks and crannies where pet hair loves to lurk. However, while the pet attachments are a nice plus, the vacuum is on the heavy side and its suction leaves a little to be desired. That said, at $149, it's a fairly good buy for those looking for a pet-grade vacuum.
Dyson Groom ($69.99)
A vacuum attachment specially designed for Dyson vacuums, the Groom at first glance looks like a regular pet brush. But with the flick of a lever, its bristles retract, causing the captured pet hair to shoot into the vacuum.
The biggest problem with the groom is that it brings together two of nature's fiercest enemies: pets and vacuums. So if your dog or cat cowers beneath the bed at the mere sight of a vacuum, the Dyson Groom is probably a pass. And while it sports an ingenious design, $69.99 is a steep price to pay for a simple vacuum attachment, nearly as pricey as some vacuums.
Pooch Power System ($99.50)
If the thought of picking up dog poop grosses you out so much that you'd be willing to turn to a battery powered poop vacuum, it might be time to reconsider pet ownership. Nevertheless, the Pooch Power System is a weed-whacker sized vacuum that sucks up your pet's waste into a little baggy, supposedly making the job of cleaning up after your dog a whole lot easier.
While it eliminates the need to bend down and pick up animal waste with a plastic-bagged hand, you still need to remove the full bag from the machine — hardly an improvement. It's also hard to imagine anyone lugging this unwieldy machine along with them when they take the dog for a walk. While technology can improve on many aspects of pet ownership, picking up poop is just a fact of life we may just have to live with. At least until somebody comes up with a better poop trap.