British family puts up Christmas decorations, multiple trees in early October; snow machine and more trees to come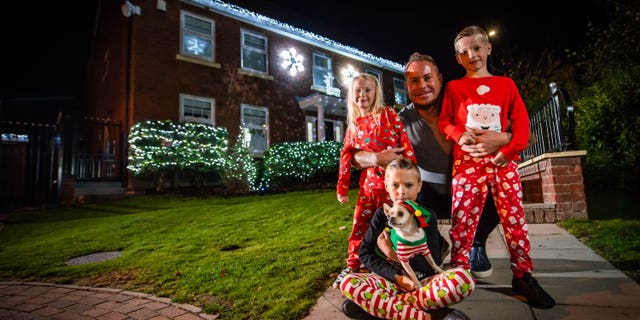 A festive of British family of seven have had had their extravagant Christmas decorations up for nearly a month already.
Lee and Kerry Whitehead began their three-month long Christmas extravaganza on October 5, when the lights outside their house were switched on.
The inside of the home is also decked in decorations including tinsel, inflatable characters and four Christmas trees.
MAJORITY OF PARENTS ADMIT TO STEALING CANDY FROM THEIR TRICK-OR-TREATING KIDS
Youngest children Ronnie, 7, Rudie, 9 and Lourdes, 5, are getting into the spirit of things by spending their evenings and weekends watching Christmas films and listening to festive music. The family have been feasting on mince pies since September, and enjoyed a turkey roast on Sunday.
Lee, 42, says the idea goes back to his childhood, when his parents went all-out to celebrate the season. He's been carrying on the tradition, which costs thousands of pounds every year, since buying his first house 20 years ago.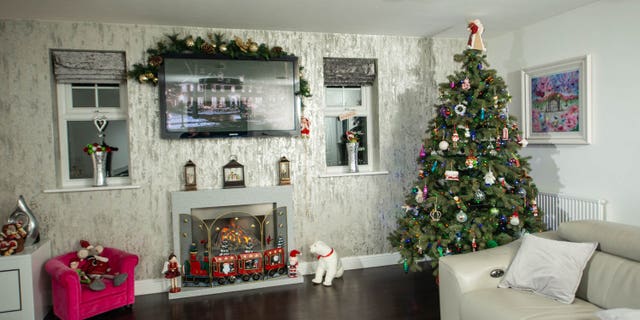 Incredibly Lee, a legal firm director, says that this year's display is only half complete, with much more to come before the big day. The crowning jewel will be a 700 pound ($900) projector showing a giant Father Christmas scaling down the roof of the house.
Lee has also ordered a snow machine so that Ronnie, Rudie, and Lourdes can make snow angels in the garden.
THOUSANDS SIGN PETITION TO CHANGE DATE OF HALLOWEEN TO THIS
Lee and Kerry have two older children who have already moved out, but love going back to their mom and dad's to get into the spirit of things. And on the big day in December, the couple will host 25 family members and friends at their house.
"I just love Christmas and I always have done. Luckily the kids feel the same, they love it, which makes it all the more fun," said Lee, from Hull, East Yorkshire.
"I'm only half done putting this year's decorations up, believe it or not. I'm waiting for a few more things to arrive," he continued.
"We've got four fake trees up already and after Halloween I'll get four more real ones to put up and probably some smaller ones for the kids' bedrooms. I've already been hassling the local garden centers about when they're going to get Christmas stock in," he said.
"On Christmas Day we'll have lots of people round to the house so it's nice to make an effort."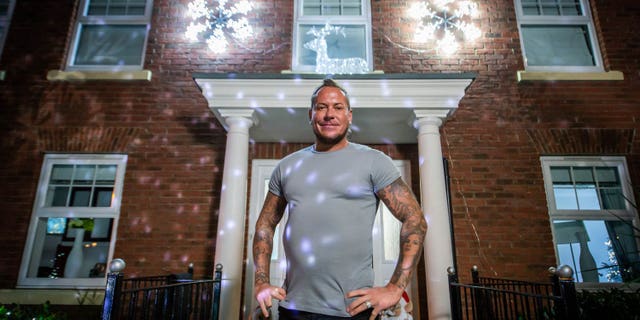 FOLLOW US ON FACEBOOK FOR MORE FOX LIFESTYLE NEWS
Lee added that he catches his neighbors peeking out at his property from time to time, but really doesn't mind.
"We do get some funny looks from neighbors who wonder what on earth we're up to, but it's all for fun at the end of the day."