Bed Maker Introduces $44,000 Mattress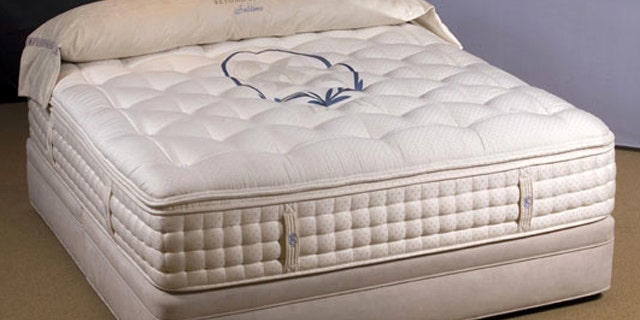 How much would you spend for a good night's sleep?
Some people might say $33,000. That's the price of E.S. Kluft & Co.'s hand-tufted, king-size Palais Royale mattress and box spring, currently the most expensive American-made mattress set on the market. The company says it has sold about 100 since introducing it in 2008, The Wall Street Journal reported Wednesday.
Or maybe it's $44,000 -- the price tag on Kluft's Sublime model, which the company has teed up for a launch later this year.
European shoppers will pay even more. At $69,500 -- roughly the price of a Porsche Cayenne S hybrid SUV -- there's the Vividus king-size mattress set from Hastens Sangar AB, of Sweden. Hästens says it takes 160 hours to assemble this mattress entirely by hand, which has a Swedish-pine frame with thick layers of horsehair, cotton, flax and wool inside. The company says since introducing the mattress in 2006, it has sold 250 of them worldwide.
There's an arms race under way in the world of luxury mattresses that jittery economists and sluggish home sales seem unable to stop. Even at the middle-to-upper-middle tiers, mattress prices are creeping up as companies cater to mainstream demand for luxurious sleep.
At Sealy Corp., in Trinity, N.C., the lineup of products aimed at the luxury end of the market is expanding, says Jodi Allen, chief marketing officer. The company's higher-end Stearns & Foster mattresses range in price from $1,200 to $5,000 and take twice as long to make as the company's Sealy-brand mattress.
This year, Sealy launched its most expensive Stearns & Foster model, the black-and-gold Golden Elegance, priced at $4,999 for a king set. It features individually wrapped inner and outer coils, which give extra support, and it contains wool, horsehair and natural latex inside.
Earl Kluft, chief executive of E.S. Kluft, a family-owned company based in Rancho Cucamonga, Calif., says it takes 10 craftsmen about three days to make the Palais Royale, which contains 10 layers and more than 10 pounds of cashmere, mohair, silk and New Zealand wool that has been washed, dried and crimped. Natural latex foam and certified organic cotton are among the materials used to reduce motion transfer and provide cooling. The Sublime has a layer of horsehair for resiliency.
"We really want the consumer to get a better night's sleep," luft says. "When you think about it, the mattress is the most important thing in your house. You spend more time on your bed than anywhere else."
Kluft says super-premium mattresses, or those costing $20,000 or more, made up five percent of Kluft's sales of $33 million in 2009, a year when overall sales were flat. In 2010, first-quarter sales were up 50 percent over the year earlier, Kluft says.
At the high end, other mattress options range from Hollandia International's "3-D fabric," with raised fibers creating ventilation, to a customizable mattress from Organic Mattresses Inc., featuring layers of latex in varying firmness that are stacked to suit the customer. Some mattresses have aloe vera or lavender built into the top layers; a luxury mattress from Magniflex, an Italian line, is covered with fabric containing 22-karat gold.
Exactly how much better will a person sleep on a super-expensive mattress, a shopper might ask. Not much, according to one sleep expert, Clete Kushida, medical director of the Stanford University Sleep Medicine Center. "For the vast majority of people who are generally healthy, bed surface won't make much of a difference in terms of their sleep," Kushida says.