9 Gorgeously modern kitchen fireplaces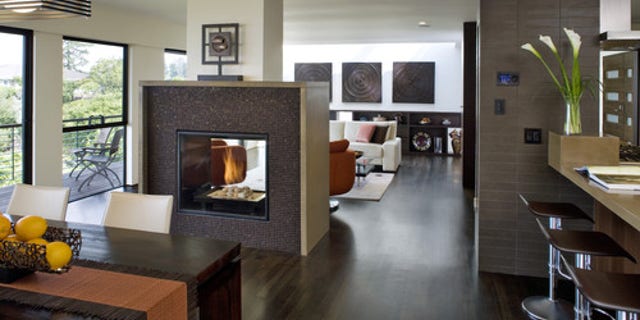 Few elements say "dream kitchen" in the way that a fireplace does. They represent the ultimate in comfort and coziness, and satisfy a primal longing to gather around a hearth. When most people think of kitchen fireplaces, however, they picture a mammoth brick surround with a cavernous firebox that could easily hold a cast iron kettle or a spit for roasting meat -- just like in the old days.
These modern spaces redefine the kitchen fireplace archetype, with stripped-down structures that still radiate homey appeal. Which one inspires you most?
A custom sculpture cradles the flames in this gas fireplace and adds a free-form, organic note to a very angular space. The openness gives it the feel of a fire pit and offsets the visual weight of the floating chimney.
Smart design created a fireplace that serves three separate spaces with equal aplomb: kitchen, living area and dining room.
A marble-framed fireplace adds a dose of needed warmth to this cool white kitchen and sitting area.
What a wonderful translation of the old-school iron stove. This model is embedded right into the island, filling an odd corner and helping to cozy up the open space that surrounds the kitchen.
The wooden countertop inlay and brilliant red stools lead the eye straight to this simple fireplace. Imagine how compelling it would look ablaze.
A low-to-the-ground fireplace undercuts the heaviness of the wall and gives the artwork on both sides the room it needs to shine.
This fireplace forms the focal point of the kitchen in much the same way as an old-fashioned version would -- but with a totally modern spin. Shelves on either side take the place of a conventional mantelpiece.
Exotic hardwoods and rough stone amplify the natural warmth of this inviting fireplace.
A sleek, open brick fireplace represents a contemporary take on the classic hearth.
Related:
Houzz is the leading online platform for home remodeling and design, providing people with everything they need to improve their homes from start to finish - online or from a mobile device. From decorating a room to building a custom home, Houzz connects millions of homeowners, home design enthusiasts and home improvement professionals around the world. Lisa Frederick is a contributor to Houzz.