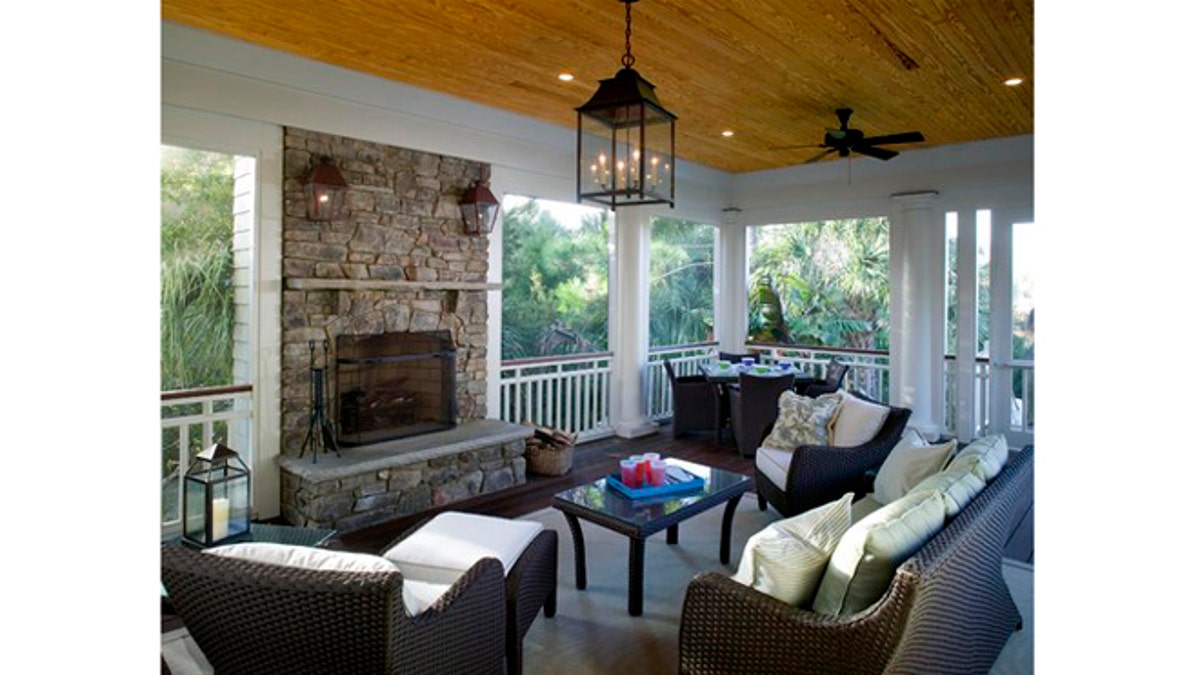 No matter what fireplace type, style or size you have, the best way to show it off is with the proper lighting. Fireplace lighting not only is functional, but it also helps highlight your fireplace as a focal point in your home.
There are over thousands of lighting choices to choose from, so it can get overwhelming. Let's take a look at some industry-standard lights used on fireplaces to get started.
Tape lighting. Relatively new to the market, tape lighting is so named because it has hundreds of tiny lights fixed to a flexible band that comes off a roll -- just like tape. This living room has it above the molding on the ceiling and above the fireplace mantel.
Design tip: While tape lighting can be great when you want to light lots of linear footage, it can also get very expensive depending on the manufacturer.
Hockey pucks. The flat, round shape of these lights gave them their name. These small lights give a direct point of light that works great in small spaces. Here they cast small scallops of light against the stone fascia.
Design tip: This standard light fixture is available in almost every finish and material to fit your design.
Carriage lights. These lights are generally used on exteriors. Once used to light up horse-drawn carriages, they now add a traditional element and a heavy visual focal point.
Design tip: Since they have a glass enclosure, carriage lights are great for outdoor spaces.
Backlighting. This entire fireplace is lit from behind its quartzite slab surround. When all the lights are off, this stone will illuminate the room with a soft and warm glow.
Design tip: Check with your electrician to see what kind of lighting should be used to light up your slab, since there are several options.
Sconces. Wall sconces are one of the most commonly used lights in modern homes. They're perfect for symmetrical layouts -- try using them to flank a fireplace or artwork hung above it, as shown here.
Design tip: Try to install your sconce at a height of about 66 inches -- this is just about eye level for most people.
Pendants. A pendant light hangs from a chain, cord or stem and has a domed canopy at the top to hide the electrical box. Although it's not usually the type of lighting that'd be used on a fireplace focal wall, the pendants shown here make a big impact.
Design tip: Pendant lights come with extra feet of chain, cord or stem that can be adjusted to the necessary height.
Can lights. Here the can light is recessed into the small ceiling above the fireplace -- known as a soffit -- so the light can illuminate the stone.
Design tip: Can lighting comes in sizes ranging from a 3-inch diameter to a 6-inch diameter.
Eyeball lights. Much like the can light, eyeball lights are recessed into the ceiling, but the interior has a swivel mechanism that allows it to move like an eyeball. This lighting is great for casting light directly onto objects such as artwork or mantel displays.
Design tip: Eyeball lights are best on a dimmer, so you can control the amount of light spread. Turn them up when entertaining and turn them down for ambience.
Related:
Houzz is the leading online platform for home remodeling and design, providing people with everything they need to improve their homes from start to finish -- online or from a mobile device. From decorating a room to building a custom home, Houzz connects millions of homeowners, home design enthusiasts and home improvement professionals around the world. Shane Inman is a contributor to Houzz.