8 Ways to keep winter gear from mucking up an entryway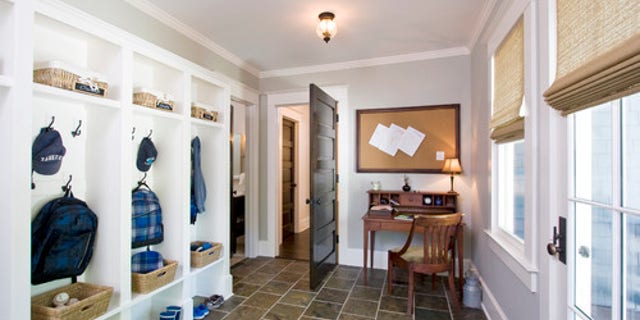 It's official: Winter is just around the corner. Along with snow, cold and wetness come coats, mittens, scarves, hats and boots, all of which need a place in the home. Instead of letting your family's winter gear be thrown haphazardly about your entryway or mudroom, plan appropriately for the chilly months ahead by creating functional storage. These professional tips can help you prepare properly.
Create open storage. "Good air circulation is critical with wet and snowy jackets," says Jeff Murphy, president of Murphy & Co. Design. Open cubbies not only keep the air moving but make it easy to see a jacket or backpack quickly.
Assign everyone in the family an individual cubby or set of hooks. Maximize the storage potential of your entryway or mudroom by making it as efficient as possible. "A cubby or set of hooks for each person in your home reduces clutter and allows everyone to have their own personal storage compartment," says Rozalia Kiss, design manager at transForm. "Plus, your loved ones won't take your gloves if they can find their own."
Stock up on baskets and bins. Use containers that slide neatly into divided shelves to keep hats and gloves dust free. "Grouping similar items makes finding and selecting the gear you need simple and quick," says Kiss.
Don't scrimp on hooks. Hooks are inexpensive and easy additions to your winter gear storage that can make all the difference, especially if you consider all the things you could potentially hang. "Install hooks for your keys, dog leash, sports equipment and backpacks as well as jackets and scarves," says Kiss.
Catch the snow before it comes indoors. Kiss advises keeping a rough mat outside the door and a mud tray on your mudroom boot shelf to catch snow from boots.
Protect flooring and cabinets from wetness. Even with mud trays and mats, water is bound to reach the indoors, so it's best to design a space where wet soles won't wreck the flooring. "In entryways or mudrooms, consider an open tile floor that extends below a bench area," says Murphy. This ensures a protected floor regardless of where wet boots may travel.
Consider installing a boot dryer. "We have designed many mudroom areas that include a boot dryer device that can also be used to dry wet hats or mittens," says Murphy. "This is great for kids that are playing in the snow or if you need to dry things out before school. If building new, we'd design it into a dedicated space, otherwise it could be placed anywhere near an outlet." The MaxxDrySD Shoe and Boot Dryer can be found at Northern Tool +
Clean out your collection. Kiss advises donating any unwanted winter jackets, hats and gloves to charities and shelters. Cutting down on unneeded gear will help you create a clean, uncluttered space that is equipped only with the essentials.
Related:
Houzz is the leading online platform for home remodeling and design, providing people with everything they need to improve their homes from start to finish - online or from a mobile device. From decorating a room to building a custom home, Houzz connects millions of homeowners, home design enthusiasts and home improvement professionals around the world. Shawn Gauthier is a contributor to Houzz.