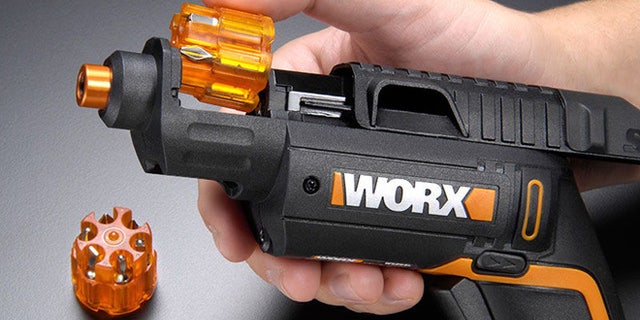 NEWYou can now listen to Fox News articles!
Do-it-yourselfers know that if you want it done right, you need to roll up your sleeves. But you can't get the job done if you don't have the right tools. If you're on the prowl for the perfect gifts for the handyman or woman in your life, look no further. Help a DIYer in your life get more work done this year with one of these great gifts.
Craftsman Bolt-On: The perfect present for the DIY novice who is starting to build a tool collection, the Craftsman Bolt-On is a modular tool system that can tackle a number of common tasks. The base system starts out as a typical 20-volt cordless drill, but with the Bolt-On, you can pop off the drill head and snap on another attachment, like a jig saw, sander or router. Extra attachments run between $25-$35, making it one of the most cost-effective power tool sets on the market.
Pentax Optio: More and more DIYers are looking to capture their projects for posterity and produce helpful how-to videos. If you know a handyman or woman that dreams of being a DIY star, check out the Pentax Optio. This rugged camera can capture 1080p video and is built to be used in the toughest conditions, making it a perfect fit for the garage.
Ryobi Tek4 Audio Plus: Ear protection is essential when working around power tools for long periods of time. But sometimes you want to protect your ears and listen to some tunes or have a conversation with a co-worker at the same time. The Ryobi Tek4 Audio Plus allows you to do just that. Featuring active noise cancellation, the Ryobi headset has a built-in microphone that allows you to hear conversations with those around you. It also has an audio input, so you can hook up a phone or MP3 player to keep yourself entertained while you work.
Stanley Clamping Flashlight: Working in tight, dark spaces can be tough going. Trying to balance a flashlight in one hand while wielding a tool in the other is inefficient and can be downright dangerous. The Stanley Clamping Flashlight allows you to focus on your work. It has a wide and powerful clamp that can fasten onto beams, car hoods and barbecue lids, and the flashlight's swivel head makes it easy to point the light in any direction. It's the perfect gift for the mechanic or backyard chef in your life.
Griffin Survivor: Tablets and phones have become indispensable garage tools. You can sketch out 3D plans for a wood-working project, replace tools like a level and a plumb, or follow along with a how-to video on YouTube. But the dust and heavy machinery of a workshop can do damage to these delicate devices. Keep your fancy electronics safe with the Griffin Survivor. These super-tough cases are modeled on U.S. military specs and are dust-proof, waterproof and impact resistant — the perfect gift for the grease monkey that can't live without a tablet or smartphone at arm's reach.
Worx Semi-Automatic Screwdriver: Quickly switch between several different screw types and sizes with the Worx Semi Automatic Screwdriver. Featuring a six-chamber barrel, the driver allows you to jump between bits with a flick of the wrist. While the Worx isn't a pro-level too, it's more than enough for the novice in need of a basic battery-powered screwdriver.
CH Hanson Stud Finder: Electronic stud finders can often steer you wrong, giving you false positives or even causing you to put a screw through a water pipe. The CH Hanson Magnetic Stud Finder forgoes fancy electronics for a few simple, super-power magnets, which find and stick to the nails in the stud and will also alert you to larger metal substances — such as pipes or electrical wiring — behind the wall.
Gladiator Chillerator: After a tough day of work in the workshop, kick back with a cold one pulled from your garage refrigerator. Gladiator's Chillerator is specially designed for use in the garage, keeping things a constant temperature inside, despite the extreme heat and cold you might see in an uninsulated environment. It's the perfect gift for the man-cave dweller.