World Markets Jump as Obama Announces Debt Deal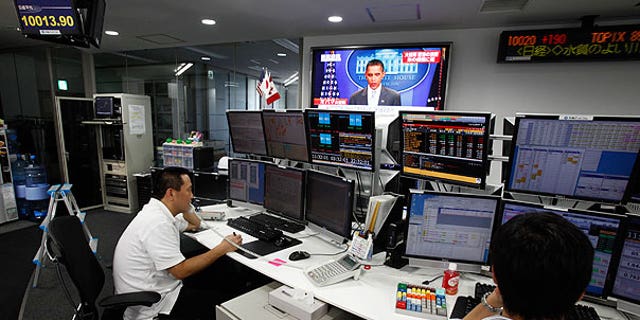 NEWYou can now listen to Fox News articles!
SINGAPORE – World stock markets jumped Monday after President Obama announced a last-minute agreement to raise the government's debt limit and avoid a default.
Republican and Democratic leaders Sunday hashed out the details of a deal that would cut more than $2 trillion of federal spending over the next decade, but no votes are expected in either house of Congress until Monday at the earliest.
Early in Europe, the FTSE 100 index of leading British shares rose 1 percent to 5,872.91 and the CAC-40 in France was 0.6 percent higher at 3,693.48. Germany's DAX gained 0.9 percent to 7,222.27.
U.S. stocks looked set to rise strongly. Dow Jones industrial futures were up 1.2 percent at 12,227 and broader Standard & Poor's 500 futures climbed 1.1 percent to 1,302.80.
Japan's Nikkei 225 stock average closed up 1.3 percent at 9,965.01 and South Korea's Kospi gained 1.8 percent to 2,172.31.
Hong Kong's Hang Seng added 1 percent to 22,663.37 and China's Shanghai Composite Index rose 0.1 percent to 2,703.78.
Elsewhere, Australia's benchmark stock index gained 1.7 percent to 4,497.80 and New Zealand's rose 0.5 percent. India, Singapore, Indonesia and the Philippines also climbed.
Markets fell last week on concern a deadlock over the debt limit would lead to the country's first debt default. Both the Dow and the S&P 500 lost about 4 percent as investors grew more anxious about the prospects for a deal.
The Treasury Department had said it would run out of money to pay the government's obligations Tuesday unless the debt limit was raised.
"It's a relief rally," said Lorraine Tan, an equities analyst with Standard and Poor's in Singapore. "First and foremost, there's not going to be a default. It takes the worst case scenario off the table"
Gold, which tends to rise when investors aren't confident about other investments, rose 2 percent last week. On Monday, it was down $13.40, or 0.8 percent, at $1,614.90.
The yield on the 10-year U.S. Treasury note, which moves opposite from its price, rose to 2.83 percent late Sunday from 2.80 percent Friday. The rise in Treasury yields is a sign that investors are less worried. Treasury bonds have long been considered the world's safest investment.
Some analysts still expect credit rating agencies to cut the U.S.'s AAA debt rating despite Sunday's pledge to rein in spending.
"The only question is whether the rating agencies pull the trigger this week or wait a little longer," said Paul Dales, senior U.S. economist at Capital Economics. "The bigger picture is that the long-term fiscal position of the U.S. remains perilous."
The stock rally will likely be tempered by concern about slowing U.S. economic growth. The U.S. said Friday that its economy grew at an annual rate of only 1.3 percent in the second quarter.
"There will be a limitation to the uptick because U.S. GDP numbers were exceptionally disappointing," Tan said. "There are still worries about a double-dip recession."
Investors will also be eyeing the latest data about U.S. manufacturing, auto sales and unemployment this week.
The dollar rose to 77.48 yen in Asia from 76.72 yen late Friday in New York. The euro fell to $1.4394 from $1.4403.
Benchmark oil for September delivery was up $1.72 to $97.42 a barrel in electronic trading on the New York Mercantile Exchange. Crude dropped $1.74 to settle at $95.70 on Friday.
In London, Brent crude was up $2.80 at $119.54 per barrel on the ICE Futures exchange.