Witness describes wife of former Va. Gov. McDonnell as 'diva-ish'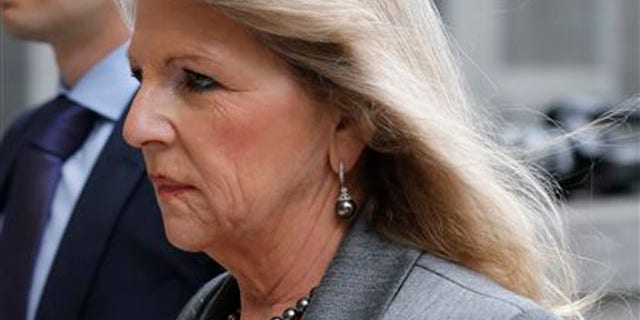 An ex-staffer for former Virginia Gov. Bob McDonnell heaped more criticism on his wife Maureen Monday, testifying in the couple's corruption trial that the once-first lady's "demanding" behavior nearly caused a mass resignation among workers in the governor's mansion.
Lawyers for Bob McDonnell opened their defense with testimony that continued to portray Maureen McDonnell badly, after prosecutors presented nearly three weeks of evidence that produced many embarrassing details about the former first couple's time in office.
Prosecutors say the McDonnells accepted more than $165,000 in gifts and loans from former Star Scientific Inc. CEO Jonnie Williams in exchange for promoting his company's dietary supplements. The couple is charged in a 14-count indictment.
The tight relationship between Maureen McDonnell and Williams has been a key issue at trial, with the former governor's lawyers suggesting that she acted largely on her own to promote Williams' tobacco-based supplement, Anatabloc.
Janet Kelly, a longtime aide to McDonnell who served as secretary of the commonwealth, gave emotional testimony Monday about her time working for the former first couple.
Kelly heaped praise on the former governor, calling him truthful, honest and hard-working and saying her time working for his administration was the "honor" of her life.
However, Kelly described her relationship with Maureen McDonnell as much more challenging. Though she said she did not "want to just pile on," Kelly "emotionally described the former first lady as "difficult, demanding and diva-ish."
Kelly acknowledged that she and other staffers intervened to thwart a mass resignation of the mansion staff, in which they wrote a joint letter stating that "to be treated like naughty children any time something doesn't suit you is completely unacceptable." Kelly said the letter would be counterproductive because Maureen McDonnell was "pathologically incapable of accepting any responsibility."
Kelly also said Maureen McDonnell reacted badly when her husband told her at the outset of the administration that she would have to suspend her business selling vitamins and other supplements. She testified that while the relationship between the McDonnells appeared to be strained, she said she observed Maureen McDonnell and Williams acting "kind of flirty" on a plane trip in 2012.
Defense attorneys have said the marriage was on the rocks and that Maureen had developed a crush on Williams, suggesting that the McDonnells could not have engaged in a criminal conspiracy because they were barely speaking.
Kelly, who played a key role in handing out jobs and appointments, testified that she was never asked to give any appointments or jobs to Williams or executives from his company. McDonnell wanted only the "best and the brightest" to serve in his administration, regardless of their political connections, she said.
Bob McDonnell's lawyer, Henry Asbill, sought to dispel the notion that McDonnell's influence could be bought, asking Kelly what the former governor's philosophy was for dealing with donors.
"If you can't take someone's money and vote against their bill the next day, you shouldn't be in politics," Kelly said.
Her testimony painted a different picture than that of another cabinet secretary, Bill Hazel. Testifying for prosecutors, he said that as health secretary he met with Williams only because McDonnell asked him to. Hazel thought little of Williams or his tobacco-derived supplement, Anatabloc, and testified that he and his staffers derisively referred to Williams as the "Tic-Tac man" for the samples he doled out.
Two other members of McDonnell's cabinet, the secretaries of education and commerce, testified Monday that it was not unusual for the governor to ask them to meet with people who wanted help from the state. However, those witnesses and the longtime state finance secretary said they never heard a word from McDonnell about Williams or Star Scientific.
Neal Noyes, retired director of the tobacco commission, also testified that McDonnell did not lobby for a grant to study Anatabloc.
Bob McDonnell is expected to testify in his own defense at some point in the trial.
Fox News' Jake Gibson and The Associated Press contributed to this report.