With March Madness Underway, NCAA And DHS Team Up To Guard Against Terror Attacks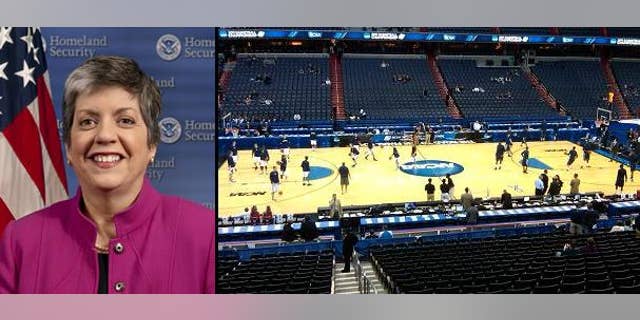 NEWYou can now listen to Fox News articles!
As March Madness gets underway, college basketball and U.S. counterterrorism officials are urging fans to keep an eye out for possible threats.
But Homeland Security Secretary Janet Napolitano said there are currently no credible threats aimed at the championship tournament.
At the Verizon Center in Washington Thursday, Napolitano and NCAA President Mark Emmert unveiled a public service announcement that will air at all 88 men's and women's games during March Madness.
"Homeland security is a team effort, and it starts with individuals at communities around our country," Napolitano says in the 38-second spot. Emmert urges, "If you see something suspicious on your way into the arena or at the game, say something to local authorities to make it right."
It's all part of expanding the Department of Homeland Security's "If You See Something, Say Something" campaign.
"Our number one priority for March Madness is to make sure that the games are safe for everyone," Napolitano said Thursday. "[We're] asking everybody to be vigilant, each individual to be aware of their surroundings, and if they see something that is unusual -- it strikes them as suspicious -- to report it to a local authority."
Emmert called security at March Madness events "an issue of obviously great importance, not just to the NCAA but on a national scale."
"We want to make sure that all of our people are in fact safe and secure at our events and anywhere that they are, and the simple notion of having citizens participate in helping to alert officials to anything that looks wrong or feels wrong is vital to this whole effort," he said, adding DHS plays a "very, very vital role" in protecting NCAA games.
Napolitano said the "clearest example" of something suspicious is an unattended package or backpack left in a hallway or aisle.
She said her department is "trying to get everybody in the country to realize that we all have a role to play in our collective security, and so if you see something, say something."
She described the NCAA's security plans for March Madness as "top notch," noting DHS is working with the NCAA at all tournament sites.
Asked if she is aware of any credible threats against March Madness games, Napolitano said, "Right now we have no specific, credible information of any threat against the March Madness tournaments."
"We're all looking forward to an exciting and competitive tournament."