With Focus on Economy, GOP Gains Traction Among Gay Voters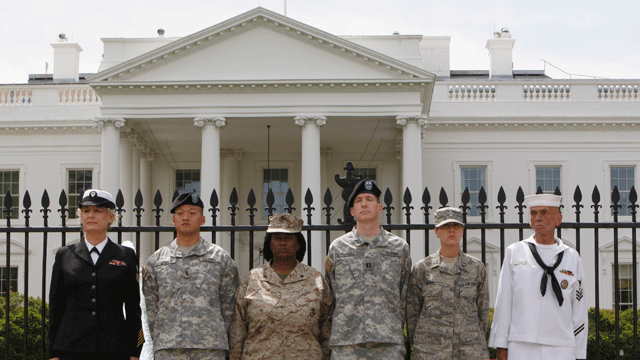 The Republican Party drew more gay voters in Tuesday's midterm elections than it has in 10 years, according to Fox News national exit polls.
The data shows that 31 percent of self-identified gays voted for the GOP, an uptick from 19 percent in 2008 and 24 percent in 2006 and 2004.
The 12-point uptick could be a reflection of the gay community's disappointment in President Obama's record on gay rights. While Obama says he supports ending the ban on gays openly serving in the military, his administration is challenging attempts by a federal judge to impose an end to the "don't ask, don't tell" policy.
Democrats have also failed to pass a law making it illegal for employers to discriminate on the basis of sexual orientation and to repeal a 1996 law that defines marriage as between a man and a woman.
But one prominent gay conservative told FoxNews.com that the increase shows that issues among gay voters aren't just social.
Economics is at the "forefront" of everyone's mind, said Jimmy LaSalvia, executive director of GOProud, a conservative gay advocacy group.
He argued that Republicans repelled gay voters in past election cycles by running on divisive social issues.
"I think you saw this week and this year a campaign that was run on issues of importance to the vast majority of Americans, including gay Americans and the message of the Tea Party resonates with everyone."
Gays made up just 3 percent of the electorate this year, the same percentage in the last three election cycles. They made up 4 percent of the electorate in 2000 and 1998 when Republicans drew similar levels of support.
LaSalvia said the numbers mean that only 1 percent of the voting population this year is gay and supports Republicans. But that 1 percent makes a difference, he said.
"In a gajillion races out there, that we still don't know the outcome of some, there are paper-thin margins," he said, adding that he would love to have a race-by-race breakdown of where gay voters made the difference.
Log Cabin Republicans, a gay conservative group, welcomed the new Republican majority and noted that it had endorsed 12 winners.
"Log Cabin Republicans are proud to have helped usher in a 112th Congress charged with enabling economic growth and restraining runaway government spending," R. Clarke Cooper, the group's executive director, said in a written statement. "We look forward to working with new and returning Republican allies to remove any barriers to equal employment access and job growth. We will also work to secure tax reform which will benefit Americans' personal budgets while stimulating market growth."
The National Gay and Lesbian Task Force saw the midterm elections as a mixed bag. The group cited the GOP capture of the House and several statehouses as a challenge for advancing gay rights legislation but noted the victories of several governor candidates who support gay marriage. The group also noted that there will be four openly gay members in the next Congress.
"We'll cut to the chase: The shift in the balance of power will very likely slow advancement of lesbian, gay, bisexual and transgender rights legislation in Congress," the group's executive director, Rea Carey, said in a written statement.
"Does this mean a blockade on LGBT rights? Not if we can help it," she said. "Fact is, our community has always had to fight -- and fight hard -- for equality. This is nothing new to us."
But LaSalvia called it "patronizing" to vote purely on one's demographic identity rather than push issues that will benefit everybody. He cited the current tax debate, including a possible rise in the estate tax, as an area where gay couples, like others, would benefit from the GOP-proposed extension.
"Really, we see it as a hugely discriminatory tax because there is no marriage exemption for gay couples so a couple that has built a business or owns a home together," particularly couples in more expensive urban areas, would lose out if the estate tax goes back up.
"We're just like everybody else trying to keep our jobs and feed our families and stay safe from the terrorists," he said.