Wisconsin Supreme Court Justice Takes Big Lead After County Corrects Vote Count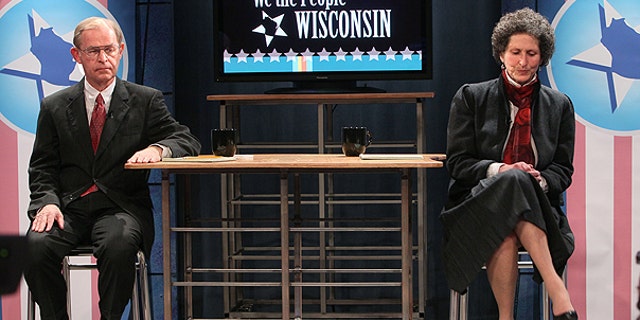 A significant change Thursday in the vote count in a Wisconsin Supreme Court election raised the incumbent into the lead, in a race that some see as a referendum on the state's Republican governor.
Conservative Justice David Prosser had faced a surprisingly strong challenge from JoAnne Kloppenburg, a little-known assistant state attorney general who drew last-minute support from opponents of Gov. Scott Walker's push to limit union power as part of a budget-balancing plan.
"I like to think that I have survived a nuclear firestorm of criticism and attack and smear," Prosser said to Fox News' Greta Van Susteren. "As far as I'm concerned, if these results hold up, I will be the winner."
The fate of a controversial labor law passed by Republicans and signed by Walker could end up before the state Supreme Court, where Prosser or Kloppenberg could tip the balance.
Prosser, 68, was down by a mere 204 votes in the initial statewide vote count from Tuesday's election, and a recount was expected. But on Thursday, Waukesha County Clerk Kathy Nickolaus said not all of her county's votes had been reported on Tuesday due to "human error." The revised numbers gave Prosser a boost of more than 7,000 votes.
Prosser's new 7,500 vote-lead, though unofficial, would be enough to keep him in his office if other vote totals hold up at the end of canvassing in all of Wisconsin's 72 counties.
Opponents of the new labor law had hoped a Kloppenburg victory would set the stage for the high court to strike it down.
Kloppenburg had declared victory on Wednesday when unofficial totals showed her with a 204-vote margin out of nearly 1.5 million cast in Tuesday's election. Prosser's campaign had been expected to request a recount.
But it waited as each county's board of canvassers sought to reconcile the totals, making sure the ballots in hand match the number of people who voted.
It was the most expensive state Supreme Court race in Wisconsin history. As of Tuesday, outside groups had spent a record $3.58 million, according to the Brennan Center for Justice, a New York University program that tracks spending on judicial races.
When Democrats thought they were victorious, they warned the race was only a sign of what's to come. Recall efforts have been launched against 16 state senators from both parties for their support or opposition to the bill eliminating most public employees' collective bargaining rights.
On Wednesday, two liberal groups, the Progressive Change Campaign Committee and Democracy for America, announced they planned to pour another $125,000 into ads supporting recall drives against eight Republican state senators who backed Gov. Scott Walker's bill.
The Associated Press contributed to this report.