Wisconsin Supreme Court Candidate Abandons Election Challenge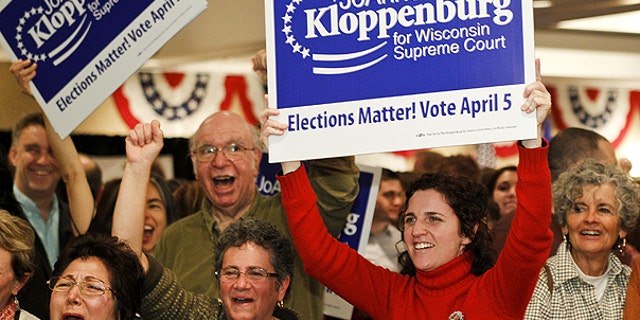 MADISON, Wis. -- Wisconsin Supreme Court challenger JoAnne Kloppenburg conceded defeat on Tuesday to conservative incumbent Justice David Prosser, saying she did not think a court would overturn the election results that were affirmed following a statewide recount.
Kloppenburg's concession brings to an end the race that was widely seen as a referendum on Republican Gov. Scott Walker's divisive legislation stripping most state workers of nearly all their collective bargaining rights.
Kloppenburg, an assistant state attorney general, said problems uncovered during the recount should serve as a "wake-up call to improve Wisconsin's election processes," but there was no compelling proof that the integrity of ballots had been compromised.
"It would serve no purpose to bring a suit with insufficient legal basis," she said. "That's not the kind of lawyer I am."
Prosser said he was pleased the election was finally over nearly two months after the votes were cast.
"We thought we had won on April 5 and we've never believed otherwise," Prosser said. He called the election and subsequent recount an ordeal, and he was looking forward to continuing his work on the court.
The fight over passage of Walker's collective bargaining bill came in the weeks leading up to the Supreme Court election, with supporters of the conservative governor largely backing Prosser in the hopes he would uphold the union rights bill in a legal challenge. Opponents of the proposal lined up behind Kloppenburg, hoping she would vote to overturn it.
Prosser is generally seen as one of four conservative justices on the seven-member court, although both he and Kloppenburg insisted during the race for the officially nonpartisan position that they were impartial.
A Dane County circuit court judge last week voided the law, citing an open meetings law violation by the Legislature in the process of passing it. The Supreme Court was scheduled to hear arguments June 6 on whether it will accept the case.
Kloppenburg said Tuesday that she never consulted with pro-union forces when seeking the recount or when deciding not to challenge the results.
"I had no ulterior motives," she said. "I consulted with nobody else other than my closest confidantes.
"I did not have doughnuts with the union thugs before I came to this press conference," she joked.
Kloppenburg actually declared victory the day after the election after preliminary results suggested she won by about 200 votes. But the following day, Waukesha County Clerk Kathy Nickolaus said she had failed to report 14,000 votes that gave Prosser a 7,316-vote lead, prompting Kloppenburg to call for a recount.
After the recount, which concluded May 20, Prosser's lead stood at 7,004 votes, or just 0.46 percent of the votes cast.
"We did the right thing in asking for a recount in this very, very close election," Kloppenburg said. She called on the state board that runs elections to appoint an independent investigator to look into gaps in ballot security identified during the recount.
"It is time to learn from this recount, fix the problems it uncovered and ensure that future elections are different," she said.
Prosser said the number of errors uncovered during the recount was very small and he has "enormous confidence" in the state's election process.
A former Republican state lawmaker and speaker of the Assembly, Prosser was appointed to the Supreme Court in 1998 by GOP Gov. Tommy Thompson. Prosser was elected to his first 10-year term in 2001 and his next term begins in August.
Kloppenburg said she will continue in her job as an assistant attorney general.