Wisconsin Recall Elections Don't Change Trajectory, But Larger Effort Persists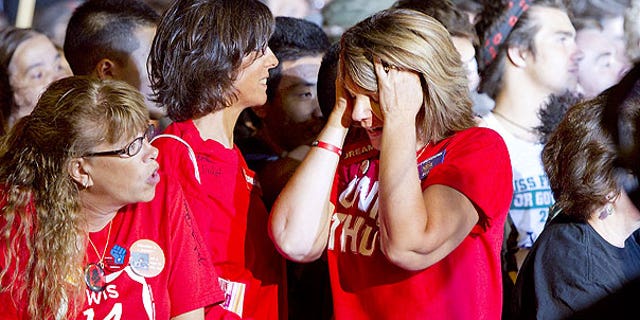 NEWYou can now listen to Fox News articles!
Madison – Republicans held control of the Wisconsin Senate on Tuesday, keeping four of six seats against Democratic challengers in a recall election, but don't expect the bickering to end there as battles remain pitched across the country over union rights and the semblance of economic order.
As the 2012 election season heats up, Democrats have vowed to put Wisconsin Gov. Scott Walker on the ballot for recall even though efforts to oust six Republicans in the state Legislature didn't go as well as the massive spending effort would have presumed.
With $31 million spent on the recall effort, four Republicans -- Sens. Alberta Darling, Sheila Harsdorf, Rob Cowles and Luther Olsen all held onto their seats. Two Republicans -- Sen. Dan Kapanke and Randy Hopper -- were defeated, respectively, by Democrats Jennifer Shilling and Jessica King.
Two Democratic incumbents -- Sens. Bob Wirch of Pleasant Prairie and Jim Holperin of Conover -- face recalls next week, but even if they win, the party will still be in the minority.One Democrat, Sen. Dave Hansen, won his recall election last month.
That doesn't mean unions and other organized groups won't try to take down newly elected lawmakers and executives like Walker, who entered office just nine months ago.
"At a minimum, we already know that the conservatives are providing energy for progressive to fight back like an angry badger that otherwise may not have existed," said Democratic strategist Chris Lehane, who added that the results could provide "some early radar warnings" about the 2012 races.
Other strategists said it's important not to read too much into the results as recall races are usually one-offs, and not indicators of broader trends.
"Wisconsin was a swing state before, and it will be after," said Roy Temple, a Democratic political consultant with extensive experience in the Midwest. "Maybe (the recall) is a sign of strong intensity, and that's not meaningless, but it's not predictive."
Republican National Committee Chairman Reince Priebus called the recall effort the work of special interests and patronage politics that had been roundly rejected with the election of Walker and Republicans.
""Today, Wisconsin voters rejected the reckless spending of Wisconsin Democrats and the downgrade-inducing policies of their Washington counterparts. They have given their seal of approval to Republicans' successful efforts to balance the budget and ensure a healthy economy," he said.
Walker, whose own race last year cost $37 million, offered an olive branch to the minority party.
"It's clear the voters also want us to work together to grow jobs and improve our state," he said in a statement. "With that in mind, earlier this evening I reached out to the leadership of both the Republicans and Democrats in the Assembly and State Senate. ... In the days ahead I look forward to working with legislators of all parties to grow jobs for Wisconsin and move our state forward."
But even with that gesture, a truce over political philosophies is unlikely to emerge.
"The fact of the matter remains that, fighting on Republican turf, we have begun the work of stopping the Scott Walker agenda," said Democratic Party Chairman Mike Tate.
And other states haven't given up on their attempts to undo the collective bargaining limits. In Ohio, that will come down to a vote on repealing the law, since the state doesn't have a process for recall elections.
Ohioans will vote Nov. 8 on whether to accept or reject the union-limiting law signed by Republican Gov. John Kasich in March that limits bargaining rights for more than 350,000 police, firefighters, teachers and other government employees.
"We're not focused on Wisconsin, and Ohioans aren't looking to another state to tell them where they should stand," said Jason Mauk, spokesman for Building a Better Ohio, a group defending the collective bargaining law.
The Associated Press contributed to this report.