Wisconsin Recall Election Monitored for Discrimination; Contests in California and New Mexico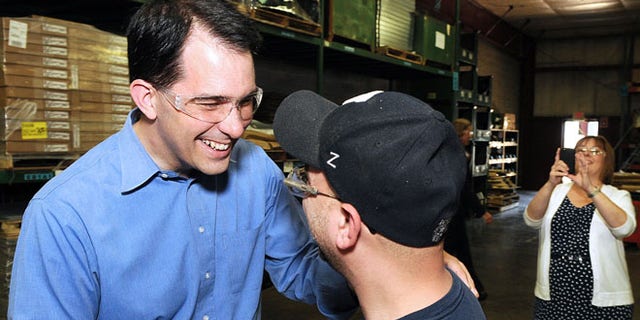 Wisconsin Gov. Scott Walker becomes only the third governor in U.S. history to face a recall vote.
The Wisconsin recall election highlights elections in a number of states which feature contested elections and ballot measures in California, New Jersey, and New Mexico, in addition to presidential primaries.
In Wisconsin, the effort to remove Walker from office began last year, when the Republican governor released a plan that called on public workers to give up nearly all of their collective bargaining rights in an effort to control the state budget.
Protests as large as 100,000 swelled at the state Capitol, but despite the outcry, the bill was signed into law.
Since then, Walker has remained a rising national star while fighting the recall campaign at home. His Democratic opponent is Milwaukee Mayor Tom Barrett, who lost the gubernatorial election to Walker in 2010.
Wisconsin is one of four states whose elections the U.S. Justice Department is monitoring to ensure against discrimination.
The federal officials will be monitoring the elections to make sure they comply with the Voting Rights Act of 1965.
The Voting Rights Act prohibits discrimination in the election process on the basis of race, color or membership in a minority language group. In addition, the act requires certain covered jurisdictions to provide language assistance during the election process.
In Wisconsin, the federal agency is sending observers to the city of Milwaukee, which is required to provide assistance in Spanish.
In California, Twenty-four names are on the primary ballot in the race for the U.S. Senate. Under a new primary system, the top two choices will compete in the general election regardless of party affiliation. Voters will also weigh in on a proposal to raise cigarette taxes by $1 a pack to fund cancer research.
In New Jersey, Democratic Sen. Bob Menéndez is unopposed in the party primary. Republican state Sen. Joe Kyrillos faces three relatively unknown challengers and is expected to oppose Menéndez in the general election.
In New Mexico, Former Rep. Heather Wilson is expected to win the Republican primary to fill the seat of retiring Democratic Sen. Jeff Bingaman. Rep. Martin Heinrich and state auditor Héctor Balderas are seeking the Democratic nomination.
A close race is expected in the Democratic primary for Albuquerque's 1st Congressional District, which is being vacated by Heinrich. In a three-way race are former Albuquerque Mayor Marty Chávez, state Sen. Eric Griego and Bernalillo County Commissioner Michelle Lujan Grisham. The winner will face former Republican state Rep. Janice Arnold-Jones.
This article is based on The Assicated Press reporting.
Follow us on twitter.com/foxnewslatino
Like us at facebook.com/foxnewslatino