Wisconsin Budget Stalemate Threatens Up to 12,000 Public Jobs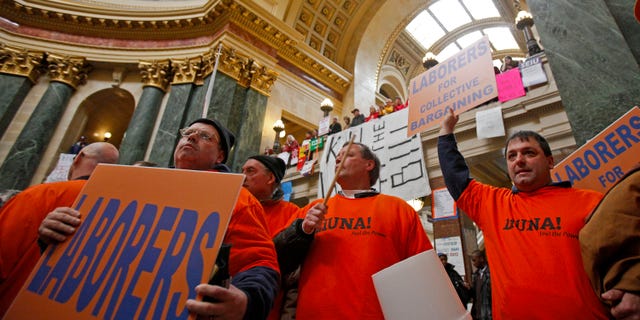 The ongoing budget stalemate in Wisconsin threatened to jeopardize as many as 12,000 public-sector jobs beginning next week as Democrats in the state Senate continued to abandon their jobs.
Gov. Scott Walker, a Republican whose plan to cut nearly all public employees' collective bargaining rights remains in limbo, said Friday that he didn't want to see layoffs, but insisted that if the bill is not passed by the end of next week, his administration would have to start preparing layoff notices for as many as 1,500 state employees.
They would be laid off by July in order to achieve the savings necessary to balance the budget, with another 6,000 layoffs by the middle of 2013, with an equal number on the local level.
At the same time, Wisconsin school districts are warning teachers that their contracts might not be renewed because if Walker's bill becomes law, it would void current teacher collective bargaining agreements that lay out protocol and deadlines for conducting layoffs.
The prospect of layoffs is raising the stakes in an epic showdown that has sparked massive protests and seized the nation's interest. Tens of thousands of people have jammed the Capitol since last week to protest the measure, pounding on drums and chanting so loudly that police providing security have resorted to ear plugs. Hundreds took to sleeping in the building overnight, dragging in air mattresses and blankets.
Even though Republicans in the state Assembly abruptly approved the bill early Friday and sent it to the Senate after three straight days of debate, the absence of all 14 Democrats in the Senate who are hiding out in Illinois ensures more legislative gridlock.
While unions have agreed to the higher contributions the bill requires to their health care and retirement benefits, they are drawing the line on restrictions to their collective bargaining rights.
The Democrats say they won't return until Walker compromises – a demand that Walker, who is trying to tackle a $3.6 billion budget shortfall, has refused. Walker said he believes the threat of layoffs will compel Democrats to end their work-stoppage.
"I ultimately believe that when push comes to shove, maybe not all, but a good number of those 14 state senators who put their districts and their state ahead of the party or any other political affiliation and they ultimately know that the alternatives -- if they don't come back and vote -- are too dire and they don't want to see that happen," he said.
Several Democratic senators said the layoff threat wasn't enough to bring them back to Madison. Sen. Chris Larson stopped short of calling it a bluff, but said he believes Walker hoped to pit middle-class workers against one another.
"It's quite despicable that he would use layoffs as a political tool," Larson said. "A lot of his tactics are veiled threats. We can see right through them."
The legislative gridlock prompted the Wisconsin Association of Schools Boards to warn districts that they have until Monday to warn teachers of possible nonrenewal of contracts. That's because if Walker's bill becomes law, it would void current teacher collective bargaining agreements that lay out protocol and deadlines for conducting layoffs.
New London district administrator Bill Fitzpatrick said he had been authorized by his school board to issue nonrenewal notices to all 180 district teachers, but was negotiating a deadline extension with local teachers union officials to avoid sending the notices en masse.
"It's like going to the doctor and being told you might have some kind of disease but that's the only thing they can tell you," Fitzpatrick said Friday. "This fear of the unknown, of not knowing the future of your livelihood -- that's what the people in this building are worried about right now."
Despite the uncertainty created by the absence of the Senate Democrats, who fled more than a week ago to block a vote on Walker's bill, Marshfield kindergarten teacher Jane Cooper said she blames Republicans.
"They are trying to bust our union," Cooper said. "That is huge."
None of the nearly 8,000 members of the Milwaukee Teachers' Education Association had received
Among those who already have received nonrenewal notices is the wife of Senate Republican Majority Leader Scott Fitzgerald, a key Walker ally. Lisa Fitzgerald is a counselor in the Hustiford school district, where all 34 teachers have gotten the warnings.
"The layoffs are real," Scott Fitzgerald said Friday. "I don't know if the Democrats understand that. This isn't some game of chicken."
The Associated Press contributed to this report.