Who is San Francisco's new acting mayor - and for how long?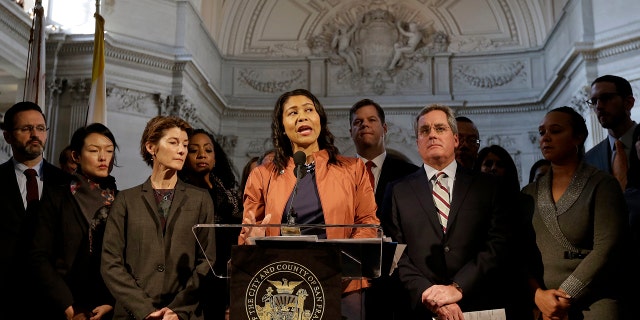 Following Tuesday's sudden death of San Francisco Mayor Ed Lee, the president of the city's Board of Supervisors automatically became acting mayor.
But the sudden change in leadership still left the city with many unanswered questions.
The city's acting mayor is London Breed, 43, a San Francisco native who becomes the city's first female mayor since Dianne Feinstein held the office from 1978 to 1988 following the assassination of Mayor George Moscone.
Breed grew up in a predominantly black and lower-income neighborhood, the same district she was elected to represent as a city supervisor in 2013.
Her background is something that she says she had in common with Lee, who died at age 65 of an apparent heart attack.
"He was from the dawn of his career an advocate for the powerless," Breed told reporters and a crowd of several hundred city workers who gathered Tuesday to honor Lee in City Hall.
Breed also said she stands behind San Francisco's sanctuary city policy, just as her predecessor did.
In light of the recent acquittal in the murder trial of Kate Steinle's killer, who was an illegal immigrant, Breed spoke last week in defense of the policy.
"What is making us unsafe in America is not immigrants. It never has been," she said. "It is the far right's callous disregard for the 30,000 Americans who die by guns every year. That is the issue we should be talking about."
Breed won election to the board in 2012 after serving on the city's redevelopment agency and fire commission. In 2015 she became the board's president and was appointed to another two-year term in April.
She is the first African-American woman to lead the city, following Lee, who was the city's first Asian-American mayor.
The bigger question facing the political establishment now is how long Breed will hold the office.
Breed will at least remain in office until Jan. 9, when the city supervisors return from a holiday break. After that, there are two possible outcomes.
Breed could remain in office until June 5, when the city will hold an election to fill Lee's remaining term, something that would appeal to her since she had been already considering a run for mayor in 2019, the San Francisco Chronicle reported.
The other option would be for the city supervisors to select another mayoral candidate already in office to fill in until the June election. That person would need six votes in order to become interim mayor.
The Associated Press contributed to this report.