Who is Nikki Haley? 5 things to know about the US ambassador to the United Nations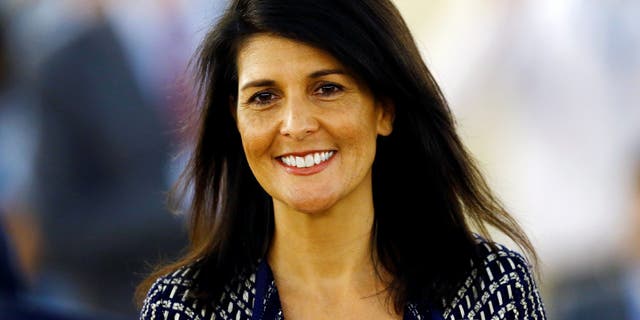 NEWYou can now listen to Fox News articles!
Nikki Haley, who has served as ambassador to the U.N. since January 27, 2017, is stepping down from her post. Trump accepted Haley's resignation on Oct. 9, Fox News confirmed.
Speaking from the Oval Office with Haley, Trump said she will leave the administration at the end of the year. He called Haley a "very special" person, adding she told him six months ago she might want to take time off. Trump said together they had "solved a lot of problems."
When he nominated her, Trump said Haley is a "proven deal-maker" who has a "track record of bringing people together regardless of background or party affiliation."
Read on for a look at Haley's past leadership and other things to know.
She was the first female governor of S.C.
When she assumed office in 2011, Haley became the first female governor of South Carolina. The Republican was also the first minority to hold that office.
She was endorsed by Mitt Romney, the 2012 Republican presidential nominee, and Jenny Sanford, then the first lady of South Carolina, when she ran. At the time, she was a state representative.
As governor for 6 years, Haley touted a record low unemployment rate in the state as well as an addition of 85,000 jobs in South Carolina, according to the Greenville News. When she gave her final State of the State address, Haley remarked on South Carolina's progress with education and domestic violence reform.
She was named one of Time's 100 most influential people in 2016.
She moved the Confederate flag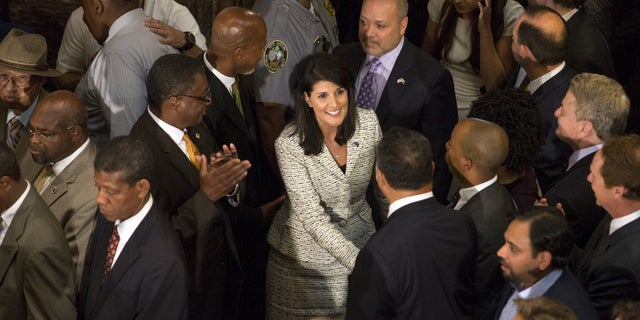 As governor, Haley led the state through the tragic Charleston church massacre. In June 2015, avowed white supremacist Dylann Roof walked into a Bible study at a historically black church and fatally shot nine people.
In wake of the tragedy, Haley signed a bill to move a Confederate flag moved from the state Capitol grounds, adhering to demands of many in the state who saw the flag as a symbol of hate.
"This flag, while an integral part of our past, does not represent the future of our great state," Haley said at the time.
She was born and raised in South Carolina
A native to South Carolina, Haley was born in 1972 in the town of Bamberg, about 60 miles south of Columbia, to Indian immigrant parents.
She graduated from Clemson University with a degree in accounting, according to her United Nations biography.
It wasn't always easy growing up in a small South Carolina town because of her family's heritage, Haley has said.
Haley, then 5, and her sister were disqualified from a beauty pageant in Bamberg as the contest crowned a black winner and a white winner, The New York Times reported in 2010, adding that the judges were "flummoxed" by the pair born to "the first Indian immigrants" the town had ever seen.
Her first job, according to her U.N. biography, was bookkeeping for her family's clothing store when she was just 13 years old.
Haley is married to a combat veteran who served in Afghanistan and is a captain in the Army National Guard. Together, they have two teenage children.
A Christian, Haley still honors her family's religion
While in South Carolina, Haley said she attended a Methodist church, where her children were also baptized. But she told The New York Times in a 2010 profile that she would sometimes attend Sikh services, as she was raised with that faith.
Haley told Christianity Today in 2012 that she was raised by parents who "reminded us every day how blessed we were to live in this country."
"My mother took us to every church in my hometown because she wanted me to see the many ways that people get to God and to respect all of them," Haley said. "She would say you can't have too much God in your life. She actually wanted us to be exposed so that we weren't judgmental, so we didn't think it was wrong."
"We shouldn't have to put anyone else down in order to talk positively about what we believe," she added.
She was married in two ceremonies, according to The New York Times; one ceremony was held in a Methodist church and another was a Sikh ceremony. A spokesman for Haley told CBN News that she would sometimes attend a Sikh service "in respect for her family."
She didn't endorse Trump in the GOP primary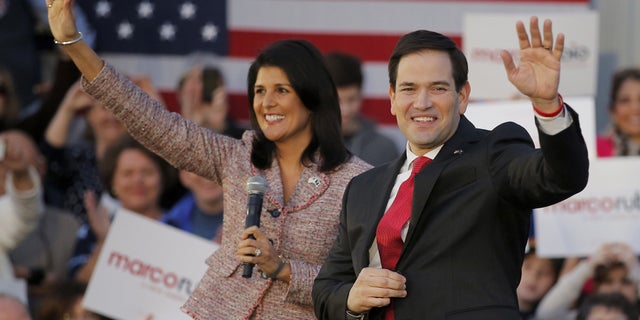 Haley endorsed Florida Sen. Marco Rubio in South Carolina's 2016 Republican presidential primary -- the first in the south.
"We have good people running for president, and I thank them today for their sacrifice and their willingness to serve," Haley said at the time. "But my job was to find the person I thought who could do it the best."
"I wanted someone with fight. I wanted somebody with passion. I wanted somebody who has the conviction to do the right thing," Haley said.
A few months later, Trump said in a tweet, "The people of South Carolina are embarrassed by Nikki Haley!"
Haley simply responded with the Southern saying: "Bless your heart."
Trump won the South Carolina primary. Haley later said she would vote for him in the general election.
The Associated Press contributed to this report.