Who is Mike Braun? A look at the Indiana Senate hopeful
Businessman and self-described political outsider Mike Braun grabbed the Republican nomination for U.S. Senate in Indiana on Tuesday.
Braun beat out two U.S. congressmen -- Todd Rokita and Luke Messer -- for the nomination in a highly volatile primary.
He will face incumbent Democrat Sen. Joe Donnelly, who has held the seat since 2013, in the fall. While Donnelly earned Trump's ire when he didn't support Republicans' tax reform plan, he has bucked his own party's traditional viewpoints for that of more conservative ones. He's anti-abortion and was one of only three Democrats who voted to confirm Supreme Court Justice Neil Gorsuch, the president's pick.
"I've voted with the president 62 percent of the time," Donnelly has told Fox News. "I've voted for a whole bunch of his nominees … we've worked together on the opioid issue. We've worked together on veterans issues."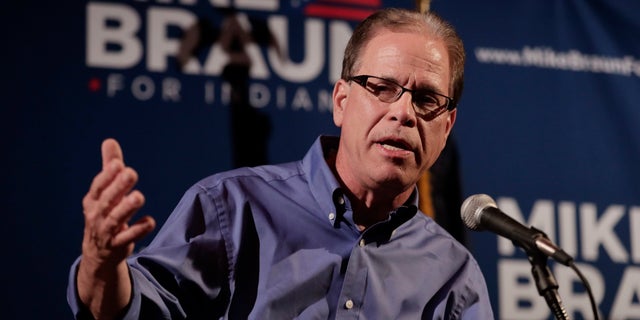 The race between Donnelly and whoever wins the Republican primary is considered a toss-up.
In the primary, Braun stood out. He's not a congressman. He didn't attend law school. And he's a little older.
During the primary debates, while Messer and Rokita donned jackets and ties, Braun just wore a dress shirt. His outsider-status likens him to Trump, Braun said.
"President Trump, he was a disrupter, outsider and businessman, and look what's occured," Braun, 64, told Fox News, praising the president for scaling back on regulations. "I've lived it. I've signed thousands of paychecks just like the president did [as a businessman]. He was an inspiration for me to run for senator, and I hope for others as well. There needs to be more of us to step outside the comfort zone."
But Braun does have some political experience. He served as a state representative for three years in Indiana.
WHO WERE THE REPUBLICAN INDIANA SENATE CANDIDATES?
Braun's campaign website bills him as a "conservative businessman," but -- as his primary opponents pointed out -- he voted with Democrats for more than a decade in state elections. His campaign spokesman has maintained that he only voted for Democrats to disrupt the outcomes of those races.
Still, Braun contends his business acumen better positions him to work with the president on infrastructure, health care and economy issues.
"Trump was an inspiration for me to run for senator, and I hope for others as well."
"I won't need to be briefed on important issues when I get [to Washington]. I've had to live through them," Braun added. "I think if we had eight or 12 of us in the Senate who came from my business background, you'd see a lot of different things in government. The Senate is where the issues are, and most people there are career politicians."
If elected, Braun said he will not collect a pension and would advocate that lawmakers should be on a 401(k) plan instead. Similarly, he said lawmakers should not get special health care plans.
"I think that for many people, that puts salt in the wound of poor performance when congressmen and senators have those kinds of advantages and perks," he said.
Aside from business issues, Braun said he would focus on gun rights, border security and strengthening the military.
Braun attended Wabash College in Indiana and graduated from Harvard Business School with an MBA. He then moved back home and started Crystal Farms, Inc., which would grow into one of the largest turkey operations in the Midwest, according to his campaign website. Eventually he would become the owner of Meyer Logistics and establish Meyer Distributing with employees across the country.
He and his wife have four children.