Who is David Shulkin? 3 things to know about Trump's former secretary of Veterans Affairs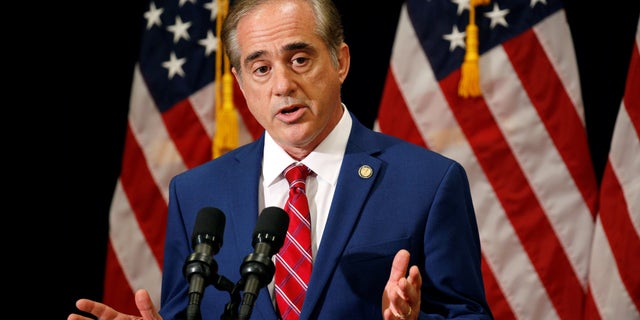 NEWYou can now listen to Fox News articles!
David Shulkin served as the 9th secretary of Veterans Affairs under President Trump's Cabinet, holding the position just over a year until Trump announced his replacement on March 28.
The 58-year-old, who reportedly became the first non-veteran to lead the department on Feb. 13, 2017, will be replaced by Adm. Ronny Jackson, who was previously serving as the White House physician, Trump announced in a tweet.
"I am thankful for Dr. David Shulkin's service to our country and to our GREAT VETERANS!" Trump said after announcing his removal.
Shulkin, a doctor, businessman and, he added, a former volunteer fireman, told Fox News in an email on March 22 that it is a "privilege to represent the 20 million American veterans and to work every day to improve our ability to serve them."
"There isn't a day that goes by that I am not inspired by these men and women," he added. "I am honored to be carrying out the president's commitment to our country's heroes and to making a positive difference in their lives."
Read on for a look at three things to know about Shulkin.
He was a holdover from the Obama administration
In 2015, former President Barack Obama tapped Shulkin to be under secretary for health at the VA.
After he was confirmed by the Senate, he served in this role for 18 months, "leading the nation's largest integrated health care system, with over 1,700 sites of care serving nearly nine million Veterans," according to his official Veterans Affairs biography.
As secretary, Shulkin oversaw the entire $177-billion agency, according to the Military Times.
When he was serving as secretary, Shulkin said he wanted to "give veterans greater choice in how and where they receive their care and services and modernize the VA system with contemporary facilities, systems and management practices," adding that "reducing veteran suicide was [his] top clinical priority." (A 2016 study from the VA found that some 20 veterans in the U.S. commit suicide each day).
Shulkin said the VA works closely with community partners, such as the #bethere campaign, a suicide prevention and support program targeted at veterans. The VA is also working on "expanding access to behavioral health services and the use of predictive analytics," he added.
He's a doctor
Shulkin received his medical degree from the Medical College of Pennsylvania, according to his biography. He later became a medical intern at Yale University and then a resident at the University of Pittsburgh.
Before working in the Department of Veterans Affairs, Shulkin was chief medical officer of the University of Pennsylvania Health System, Temple University Hospital and also the Medical College of Pennsylvania Hospital, his biography states.
He was also president and CEO of New York's Beth Israel Medical Center from 2005 to 2009, according to ABC News.
Shulkin crossed medicine with business when he founded DoctorQuality, "one of the first consumer-oriented sources of information on quality and safety in healthcare," according to his biography.
Additionally, Shulkin's wife, Merle Bari, with whom he has two children, is a dermatologist in Philadelphia.
Shulkin said his experience running private sector organizations in the past helped him to bring a "new approach to government."
"I've been a CEO of start-ups as well as large health systems and from each of these environments I have learned a great deal that I believe is transferable to improving the VA," he said. "When seeking change, such as we are in VA, you are bound to encounter challenges and make mistakes. Most important is to learn from these experiences and not to repeat them -- that's how organizations get better and improve performance."
He comes from a military family
Shulkin may not be a veteran, but he does come from a military family.
He was born on a military base in Illinois and his father was an Army physiatrist, according to the Military Times. Both of his grandfathers served during World War I, one of whom was also the chief pharmacist at the VA in Madison, Wisconsin.
Hailing from a military family "has sensitized me to the psychological and medical needs of those who served our country," Shulkin said during his 2015 confirmation hearing, according to the Military Times.