Who is Brad Parscale, Trump's 2020 campaign manager?
Brad Parscale, Donald Trump's former digital adviser, will be the president's campaign manager for his 2020 re-election campaign.
"Brad is an amazing talent and was pivotal to our success in 2016. He has our family's complete trust and is the perfect person to be at the helm of the campaign," Eric Trump, the president's son, said in a statement.
Who is Brad Parscale?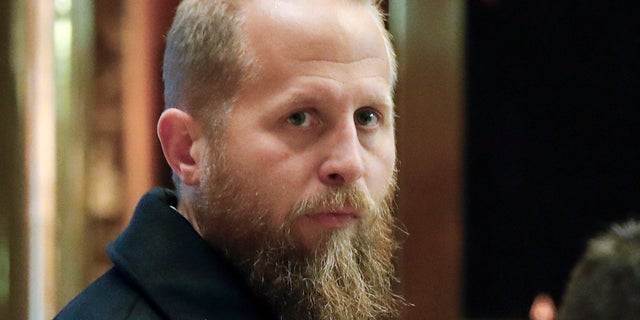 A Texas-based digital consultant, Parscale, 42, "creates web marketing strategies and oversees all technical and functional aspects of these strategies," according to a biography on his company's website.
After spending five years in California, the Kansas native moved to San Antonio in 2004 to establish the web marketing firm Parscale Media. Seven years later, he partnered with Jill Giles to create another web design firm, Giles-Parscale, Inc.
Giles-Parscale was lauded for its extensive growth even before he joined the Trump campaign.
In 2016, Parscale's career took a turn when he was named digital adviser for the Trump campaign. He was among the Trump advisers who launched America First Policies, a nonprofit that promotes the president's agenda, in 2017.
"Mr. Trump has given me every opportunity in the world, and I would do anything I could to help him win," Parscale told the Texas Tribune in 2016. "There is no rock I wouldn't turn over and no time I wouldn't put in to help him win."
"He has our family's complete trust and is the perfect person to be at the helm of the campaign."
Following the election, Parscale "continued to lead digital strategies" for the Republican National Committee, according to a release announcing him as 2020 campaign manager.
"President Trump is delivering on his promises for a stronger more prosperous country. More jobs, more take home pay, historic judicial appointments, and less burdensome regulations on our economy are already lifting all Americans and is exactly why we need to keep fighting to make America great," RNC chairwoman Ronna McDaniel said in a statement. "We're committed to continuing this fight for our country by President Trump's side and I'm thrilled Brad will help lead the effort."
As a young person, Parscale didn't have an interest in politics, his father told Buzzfeed News in 2017.
Parscale showed interest in computers at a young age, his father told the news site. One time, Parscale discovered a glitch in a Microsoft program and stayed up all night on the phone with tech support to solve the issue, his father said.
Standing at 6'8", Parscale played basketball in high school and joined the University of Texas at San Antonio basketball team until he suffered a knee injury. Parscale eventually transferred to Trinity University, where he graduated in 1999 with a degree in business finance, international business and economics, according to the Texas Tribune.
Presidential campaigns aside, Parscale was also instrumental in bringing Uber back to San Antonio. The ride-sharing app called Parscale "Rider Zero" in a release announcing its return to the Texas city.
How was he involved in the 2016 campaign?
Parscale ran the Trump campaign's digital operations in 2016. The campaign spent millions on Parscale's firm during the campaign for its digital advertising work.
"Mr. Trump understands the value of digital operations, and he's been extremely supportive of this operation," Parscale told Wired in a 2016 interview.
He previously worked for the Trump Organization and built websites for Trump Winery and the Eric Trump Foundation, according to Wired.
Trump has prioritized loyalty in his next campaign after feeling burned by some of his previous campaign staffers, according to multiple people familiar with his thinking.
Trump has denounced and publicly marginalized Paul Manafort, his former campaign chairman, whom he blames for smearing the administration's reputation with his own entanglements to Russia. Manafort is now facing charges brought by special counsel Robert Mueller on money laundering and bank fraud relating to his past work on behalf of the Ukrainian government.
The Associated Press contributed to this report.