Whitman's Former Housekeeper Says She Was Fired After Seeking Help Gaining Residency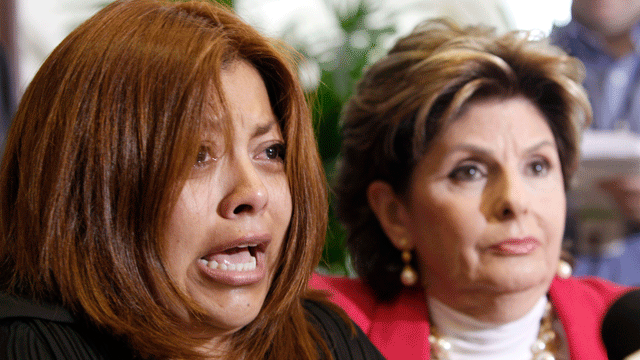 A former housekeeper for California Republican gubernatorial candidate Meg Whitman alleged Wednesday she was wrongly fired after nine years of employment when she confessed her illegal status and asked for help gaining residency.
The housekeeper, Nicky Diaz claimed through her celebrity attorney, Gloria Allred, that Whitman knew she was an illegal immigrant when she was hired in 2000 and only fired her after she launched her gubernatorial bid.
At a news conference in which Diaz at time spoke through tears, Allred claimed Whitman received a letter from the Social Security Administration on April 22, 2003, saying the Social Security number provided by the housekeeper did not match the name on the file.
Diaz said she saw the letter but said Whitman and her husband never asked about her immigration status after receiving it.
Whitman told Fox News the charges were "definitely a lie," saying that she fired Diaz once Diaz confessed in June 2009 that she was an illegal immigrant. She also told reporters she never received the letter.
"And I feel terrible for Nicky," she said. "Nicky is a wonderful individual. She was an extended part of our family for nine years. And something has happened; she is being manipulated.This is a political gimmick led by Gloria Allred who is famous for this kind of stuff. It's just politics as usual."
Whitman's campaign released documents that show Diaz wrote in her employment records that she was a legal permanent resident and provided to Whitman a Social Security card and a valid California driver's license. Whitman said she hired Diaz through an employment agency.
The charges come just five weeks before the Nov. 2 election in which Whitman and her opponent, state Attorney General Jerry Brown, are running in a dead heat.
Allred said she would file a claim for mileage reimbursement and lost wages owed to Diaz who made $23 an hour working for Whitman, which amounts to $46,000 a year full-time. Diaz was hired to work 15 hours a week but was never paid for working longer hours, Allred said, adding that Diaz's nine-year tenure was a "nightmare."
Allred is a longtime Democratic supporter who has given money to Brown.