White House: US mission in Syria coming to 'rapid end'
The White House said on Wednesday that the United States' mission in Syria to eradicate the Islamic State "is coming to a rapid end."
"The military mission to eradicate ISIS in Syria is coming to a rapid end, with ISIS being almost completely destroyed," the White House statement said. "The United States and our partners remain committed to eliminating the small ISIS presence in Syria that our forces have not already eradicated."
The announcement came shortly after the Washington Post reported that President Trump instructed military leaders during a meeting Tuesday to begin planning the withdrawal of troops from the war-torn, Middle Eastern nation.
According to a Washington Post report, Trump said that while U.S. troops can still be involved in training local forces to ensure security in liberated areas, he expects other nations – particularly the oil-rich Arab states – to help pay for the reconstruction of Syria and send in their own troops.
"As far as Syria is concerned, our primary mission in terms of that was getting rid of ISIS," Trump said on Tuesday during a news conference with leaders from the Baltic nations. "We've completed that task and we'll be making a decision very quickly, in coordination with others in the area, as to what we will do."
The mission is "very costly for our country and it helps other countries a helluva lot more than it helps us," Trump said.
As far as Syria is concerned, our primary mission in terms of that was getting rid of ISIS.
There are currently around 2,000 U.S. troops in Syria, mainly working as advisers to local proxy forces and ordering U.S. airstrikes against the Islamic State.
Trump in recent weeks has asked Saudi Arabia to contribute $4 billion for reconstruction in Syria, according to a U.S. official, as part of the president's effort to get other countries to pay for stabilizing the country so the U.S. isn't on the hook.
Trump's call for a troop withdrawal bucks the advice of his top national security team.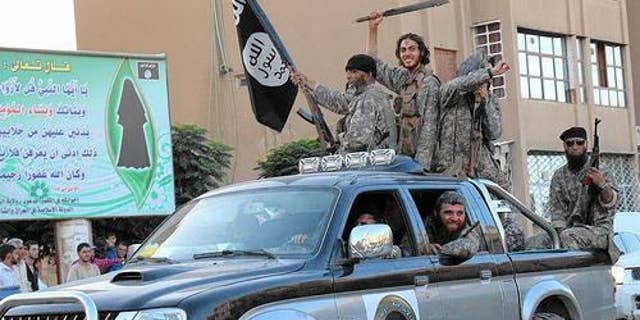 Many have warned that a premature U.S. withdrawal from Syria would cede the country to Iran and Russia, which have supported Syrian President Bashar Assad. Iran's continued presence in Syria is especially troubling to neighboring Israel, a U.S. ally that regards Iran as an existential threat.
According to officials familiar with the preparations for the meeting, that team, including CIA chief Mike Pompeo, who has been nominated to be secretary of state, strongly advised against a hasty withdrawal from Syria. The officials spoke on condition of anonymity to discuss internal talks.
Gen. Joseph Votel told a conference at the United States Institute of Peace that the United States would have to continue its work against remnants of ISIS in eastern Syria.
Votel is commander of U.S. Central Command, which oversees U.S. military operations across the Middle East, including Syria. Votel said the military campaign has been largely successful but is not over.
"The hard part, I think, is in front of us, and that is stabilizing these areas, consolidating our gains, getting people back into their homes, addressing the long-term issues" such as reconstruction. "There is a military role in this, certainly in the stabilization phase."
The main Islamic State holdout in Syria is in the eastern province of Deir el-Zour, where momentum by the U.S.-backed Syrian Democratic Forces has stalled in recent weeks as many Kurdish members of the group have shifted west to the Afrin area to fight Turkish forces. Pentagon officials have publicly raised the prospect of this giving the ISIS group the breathing room it needs to regroup.
It is unclear what will become of the some $200 million in U.S. stabilization assistance for Syria that the White House put on hold after Trump said last week that he wanted to leave Syria "very soon." The State Department was to have spent the money on building up the country's infrastructure, including power, water and roads.
John Roberts and The Associated Press contributed to this report.