White House Summit Fails to Yield Budget Deal as Shutdown Approaches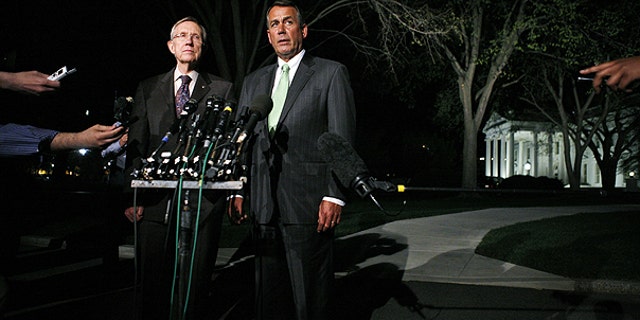 NEWYou can now listen to Fox News articles!
Congressional aides worked through the night Wednesday after a high-stakes meeting between President Obama and congressional leaders failed to reach a deal on the federal budget.
Obama called the discussion "frank" and "constructive," but did not articulate how the two sides would forge an agreement to keep the government running past the Friday deadline.
"If we are serious about getting something done, we should be able to complete a deal, get it passed and avert a shutdown," Obama told reporters in the White House briefing room.
A few minutes later outside the White House, Senate Majority Leader Harry Reid and House Speaker John Boehner stood side by side to update reporters on the talks.
"We're not there yet," Reid said, but both sides were committed to hammering out a deal and keeping the government running.
"No one wants a shutdown," Boehner said, adding there were "honest differences" and their staffs will work to get the budget issue resolved.
"We've narrowed the issues significantly," Reid said.
The government already is operating on a short-term spending measure because Republicans and Democrats haven't been able to agree on how deeply to cut and what to ax, and as a precaution, House Republicans are preparing to bring yet another stopgap budget bill to the floor Thursday to buy more time for negotiations on a long term bill.
The proposal would be the third short-term budget bill in two months. The prospect of voting on another stopgap has frustrated lawmakers on both sides of the aisle, some of whom have vowed to oppose one. But while dozens of GOP members defected the last time around, House Republican Whip Kevin McCarthy, R-Calif., told Fox News he has enough GOP support to pass this bill without any Democrats.
"We don't need one Democratic vote," he said.
House Democratic Whip Steny Hoyer, D-Md., said earlier Wednesday that he would be willing to help Republicans whip up support for a short-term spending plan. However, he also said he opposes the specific package that House Speaker John Boehner has been pushing -- a one-week bill that would cut $12 billion, while also funding the military for the rest of the year. And Boehner said Wednesday that's exactly the plan he wants to put on the floor.
"I think this is the responsible thing to do," Boehner said. "I would hope the Senate can pass it and the president would sign it into law."
It's unclear whether the bill can indeed win enough support to avert a shutdown, or do anything to advance the broader negotiations over a half-year budget. Expectations have been changing by the minute in Washington as lawmakers try to craft a budget bill while, at the same time, jockeying for political advantage in the media, assigning blame in advance to the other side in case of a shutdown.
Meanwhile, the day-to-day functions of government -- from running national parks to sending out tax refunds -- were hanging in the balance. The administration and Congress have been preparing for the possibility of a partial shutdown, warning that a number of basic services would go on hiatus and that a shutdown could hurt the economy.
Lawmakers appeared to be caught in a political perfect storm, with several simultaneous budget deals complicating negotiations over the rest of this year's budget. Conservative lawmakers want to cut as much as possible now, to set the tone for talks over next year's budget and spending for the rest of the decade. GOP Rep. Paul Ryan just introduced a plan to cut deficits by $4.4 trillion over 10 years. President Obama and Democrats, by contrast, want to use a "scalpel," rather than an ax, to address the deficit.
An upcoming vote on whether to raise the debt ceiling doesn't make things any easier.
With all this on the line, 2011 budget negotiations have been continually tested by the political rhetoric flying on both sides of the aisle. A White House aide said Wednesday there are "signs of progress" in the budget talks. But on the sidelines, lawmakers continued to hurl accusations at each other.
House Democrats convened a press conference at which they repeated the claim that the Tea Party is to blame for bringing Congress to the brink of a shutdown. Senate Majority Leader Harry Reid said Democrats have been trying to meet Republicans halfway, but the GOP has "refused to take yes for an answer."
Republicans earlier passed a bill out of the House to cut $61 billion from last year's levels, and some lawmakers have continued to press for that level of spending cuts. Democrats have refused.
Obama suggested Tuesday that he had no interest in signing another short-term measure just to keep the debate going.
"We've already done that twice," Obama said. "That is not a way to run a government."
However, he indicated he could support a very short-term budget bill if the framework for a budget for the rest of the year is in place.
Fox News' Chad Pergram and Trish Turner contributed to this report.