White House Pushes Libya Sanctions, Says Qaddafi Legitimacy 'Reduced to Zero'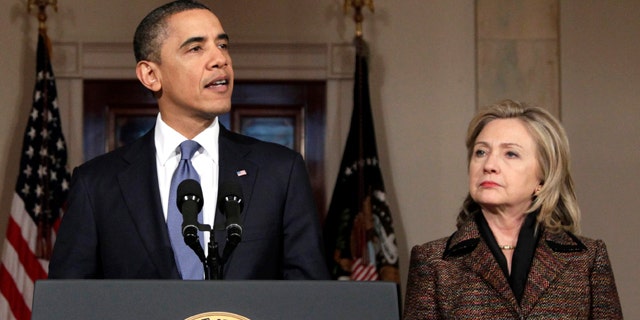 NEWYou can now listen to Fox News articles!
The White House announced Friday that the United States will pursue "unilateral" sanctions against Libya, saying Libyan leader Muammar al-Qaddafi has "lost the confidence" of his people.
White House Press Secretary Jay Carney also confirmed the United States suspended embassy operations, after a plane left for Istanbul carrying the last remaining embassy personnel.
Carney described the U.S. action as a "first step" in pressuring the Libyan regime to "stop killing its own people." He used tough language to condemn the "violation of human rights" being committed.
"His legitimacy has been reduced to zero in the eyes of his people," Carney said of Qaddafi.
Carney said the United States is working with European partners on additional sanctions and other multilateral actions that could be taken. He said the United States "strongly supports" a U.N. Human Rights Council resolution passed Friday condemning the rights abuses, calling for an international inquiry and recommending Libya be suspended from the council itself.
Carney said the United States is cutting off its already-limited military cooperation with Libya. The Obama administration later announced they are freezing assets held by Qaddafi and four of his children in the United States. The Treasury Department says the sanctions apply to the Libyan government as well.
"This is a first step. And obviously we continue to review our options going forward," Carney said. "The steps we take in the near future are not the only steps we're prepared to take."
President Obama was briefing world leaders on U.S. plans and coordinating international pressure on Qaddafi's government to stop violence against opponents. International officials say thousands may be dead.
The president spoke Friday with Turkish Prime Minister Recep Tayyip Erdogan and they discussed measures to hold Libya's government accountable for its "unacceptable" violence, the White House said. Obama spoke with leaders from the United Kingdom, France and Italy on Thursday.
After a delay, the U.S. ferried some 150 Americans out of Tripoli Friday and chartered a plane for the additional evacuations. The embassy was afterward shuttered, but officials said embassy operations could resume "at any time." While pursuing sanctions, U.S. officials have expressed gratitude to Libyan security forces for helping facilitate the evacuation of American personnel.
Prior to freezing Qaddafi's assets, the Treasury Department issued an advisory to U.S. financial institutions telling them to exercise "enhanced scrutiny" on private banking accounts held by Libyan politicians or on their behalf.
The move follows Thursday's order by the Swiss government blocking any assets in Switzerland belonging to Qaddafi.
The U.N. Security Council in New York was expected to discuss the situation in the Arab country later Friday. NATO is discussing deploying ships and surveillance aircraft to the Mediterranean Sea.
The Associated Press contributed to this report.