White House Postpones Meeting With Dem, GOP Leaders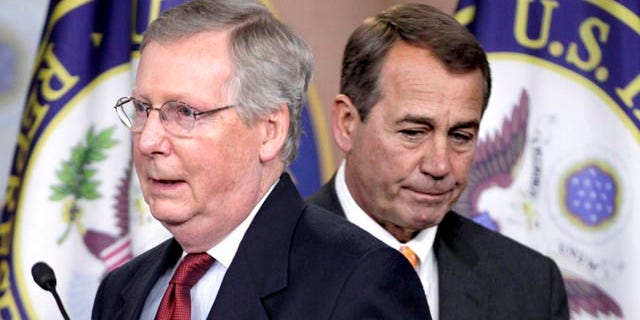 WASHINGTON -- The White House has postponed a meeting with Democratic and Republican congressional leaders to Nov. 30 after top Republicans said they had a scheduling conflict.
The meeting, originally scheduled for Thursday, will mark be the first time President Barack Obama will sit down with Congress' new bipartisan leaders since the Nov. 2 elections that cost Democrats control of the House of Representatives and shrank the Democratic majority in the Senate.
In the wake of a bitter election campaign, the session could presage cooperation or friction between Obama and House speaker-in-waiting John Boehner and Senate Minority Leader Mitch McConnell.
White House and congressional officials said meeting topics will include spending reductions, international trade and energy policy.
"We'll have a meeting so that we can discuss issues that Republicans have long said can be accomplished together," McConnell spokesman Don Stewart said.
When the White House announced the initial meeting, Obama spokesman Robert Gibbs said the session would not include staff and would wrap up with dinner among the participants.
Joining McConnell and Boehner would be the top Democrats in Congress, House Speaker Nancy Pelosi and Senate Majority Leader Harry Reid.
Also expected to attend are Republicans Rep. Eric Cantor of Virginia and Arizona Sen. Jon Kyl, and Democrats Rep. Steny Hoyer of Maryland and Illinois Sen. Dick Durbin.
A meeting this week would have allowed the president and the lawmakers to discuss issues before the current final session of Congress of the year begins, particularly the extension of current tax rates, which expire at the end of the year.
White House officials said the meeting on Nov. 30 probably will address any pending issues in the current Congress as well.
While Republicans have said they want to find areas of common ground with the president, McConnell has also urged Republicans to work to repeal or erode Obama's health care law and has said the top Republican goal is to seek Obama's defeat in 2012.
On Tuesday, Kyl dealt Obama a blow by declaring that an agreement for the United States and Russia to slash their nuclear arsenals should not be voted on this year. The treaty is a top foreign policy priority for Obama.
Liberals and organized labor, meanwhile, have pressed Obama to confront Republicans and not compromise on key economic issues.
Both sides have expressed support for extending tax cuts for the middle class. Obama has said he does not want to extend lower rates permanently for individuals earning more than $200,000. But the White House has left open the possibility of a temporary extension of those tax cuts.