White House Offers Dinner Underneath the Stars for Merkel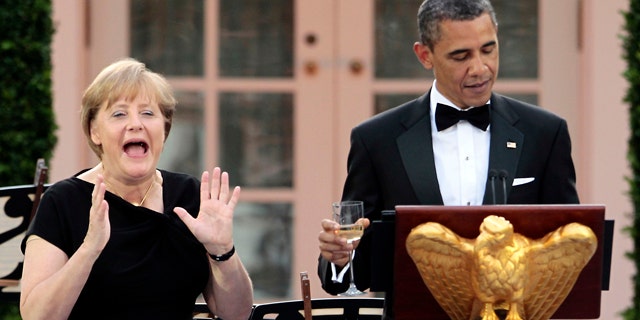 NEWYou can now listen to Fox News articles!
WASHINGTON -- The White House went all out to underscore the theme of friendship at Tuesday's state dinner for German Chancellor Angela Merkel: It even did a little social engineering with James Taylor's playlist for the al fresco gathering in the Rose Garden.
"They actually specifically suggested `You've Got a Friend,"' Taylor reported as he arrived. "That's sort of the theme of the evening."
Spring was in the air but it wasn't obvious from the evening's designer finery. Shades of black, deep gray and blue dominated among the female guests, including Merkel, the guest of honor.
"You look lovely tonight," President Barack Obama told Merkel as she arrived with her husband, Joachim Sauer. Merkel had traded her customary pantsuit for a black gown with short sleeves and an off-center neckline.
Amid all the sober colors, first lady Michelle Obama stood out in a cream-colored, sleeveless gown with vertical silver accents and a short train. It was designed by Naeem Kahn, who also made the gown she wore to a state dinner for India in November 2009.
For the first time, the Obamas served dinner underneath the skies in the Rose Garden, just steps from the Oval Office. The fare featured tuna tartare, petite filet and apple strudel.
Obama used the dinner toasts as an occasion to present Merkel with the Presidential Medal of Freedom. And after the citation was read aloud, Obama told the 200-plus dinner guests to go ahead and applaud. But then the president realized he'd forgotten something. "I've got to do the toast," he reminded himself.
And he did just that.
Just two weeks ago in London, Obama had a misfire with his dinner toast at a state dinner at Buckingham Palace. When the band cut in to play "God Save the Queen" before Obama had finished his toast, he prematurely raised his glass to toast the queen. Then he paused and dutifully waited for the song to end before raising his glass again.
Tuesday's dinner played out on a Rose Garden lawn that was covered with protective flooring gray and white carpet. Guests dined at a mix of rectangular and round tables covered with white and silver sequined linens topped with green-and-yellow centerpieces of calla lilies, orchids and other flowers.
On the menu? The tuna, which came from Hawaii, was paired with rye crisps and the petite filet was served with Maryland crab ravioli. The salad came from the first lady's garden, dressed in vinaigrette made of White House honey. For dessert, the pastry chef whipped up apple strudel from a recipe that's said to be a twist on traditional German strudel. It was made with farmer's cheese from Vermont.
The National Symphony Orchestra also performed. But what German-born conductor Christoph Eschenbach brought was essentially the NSO lite: Just 30 of the group's 100-plus musicians could fit on a stage erected on the South Lawn.
Eschenbach promised a program heavy on German composers -- Beethoven, Handel, Mendelssohn, but no Wagner (Merkel's favorite) because of the smaller number of musicians. He said the warm weather "might be a bit humid on the keys" but wasn't a huge problem for the musicians.
Obama said Merkel deserved the presidential medal because of her remarkable career.
Merkel grew up in communist East Germany, living a life devoid of many freedoms until the Berlin Wall that divided her country was brought down in 1989. She was in her 30s. Six years ago, she became the first woman and first East German to become chancellor of a unified Germany.
"She represents the unification of Europe through her own life story and the capacity to overcome the past and point towards a brighter future," Obama said at a joint news conference with Merkel at his side.
There was very little color among the dark-clad dinner guests. Like Mrs. Obama, House Minority Leader Nancy Pelosi, D-Calif., stood out in white, with a two-piece outfit by Thierry Mugler.
"Very old," she pronounced it.
The black-tie dinner for Merkel capped a day of all-out diplomatic outreach that was carefully orchestrated to highlight Germany's growing role in world affairs and its importance as a U.S. partner.
It began with a 19-gun salute on the South Lawn and included meetings with Obama and his advisers, the news conference in the East Room and a State Department lunch.
Merkel was the first European leader to receive such treatment from Obama.
Amid all of the evening's finery, Sen. Amy Klobuchar, D-Minn., offered a reality check when reporters asked who made her gown.
"This would be ..." she began, then confessed: "OK, it cost $170. And the shoes, $29." And she kicked up her heels to show off her bargain find.