White House makes move to remove Cuba from terrorism list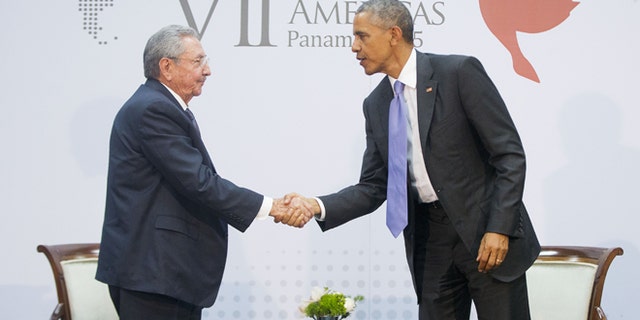 NEWYou can now listen to Fox News articles!
In another major move toward diplomatic relations, President Barack Obama is removing Cuba from a list of state sponsors of terrorism.
Obama made the move just days after he had a meeting with Cuban President Raúl Castro at the Summit of the Americas in Panama.
The White House says on Twitter that Obama has submitted to Congress required reports and certifications indicating his intent to take Cuba off the list.
Obama made the final decision following a State Department review of Cuba's presence on the list. The U.S. has long since stopped actively accusing Cuba of supporting terrorism.
A White House statement said that the government of Cuba met such criteria as not providing any support for international terrorism during the preceding 6-month period and giving assurances that it will not support acts of international terrorism in the future.
"As the President has said, we will continue to have differences with the Cuban government, but our concerns over a wide range of Cuba's policies and actions fall outside the criteria that is relevant to whether to rescind Cuba's designation as a State Sponsor of Terrorism," said a statement by White House Press Secretary Josh Earnest.
"That determination is based on the statutory standard – and the facts – and those facts have led the President to declare his intention to rescind Cuba's State Sponsor of Terrorism designation. More broadly, the United States will continue to support our interests and values through engagement with the Cuban government and people."
Cuba was one of four countries on the U.S. list of nations accused of repeatedly supporting global terrorism. The countries still on the list are Iran, Syria and Sudan.
Obama announced in December that the U.S. and Cuba were ending a half-century of hostilities.
Opponents of normalizing relations with Cuba assailed the decision immediately after it was announced.
Rep. Mario Diaz-Balart, a Florida Republican, said president is bending over backward to appease an oppressive regime that has showed no intention of changing its most controversial approaches to dealing with its own people and with nations that pose a threat to the United States.
"Once again, President Obama has demonstrated that his eagerness to capitulate to dictators has no bounds," said Diaz-Balart, who is Cuban-American. "Today, the administration has jeopardized U.S. national security by choosing to absolve the Castro dictatorship of its dangerous anti-American terrorist activities across the globe."
"I am alarmed by his endless concessions to not only the Castro regime, but also numerous enemies of the United States, such as Iran," Diaz-Balart said in a statement. "The longsuffering Cuban people, who continue to struggle for the realization of human rights and democracy in Cuba, and the American people, living with an aggressive anti-American dictatorship 90 miles from our shores, deserve much better from the President."
Proponents of removing Cuba from the list say that though Cuba once supported such groups as Colombia's FARC, a guerrilla group involved in the illegal drug trade, kidnappings and extortion, among other crimes, and Spain's ETA, a violent separatist group, it now is playing a key role in efforts to broker agreements between those organizations and their governments. They also said it was time to try a new approach – including lifting the trade embargo – with Cuba after more than 50 years of a hardline policy that yielded no changes on the island.
Ric Herrero, Executive Director of #CubaNow, said in a statement: "It had become increasingly apparent over recent years that Cuba's continued presence on the list was mainly due to domestic political pressure rather than factual findings by the State Department."
"Today's announcement marks the lifting of an important barrier to change between our two nations, but its practical impact should not be overstated," Herrero said. "Most of the sanctions associated with the State Sponsors of Terrorism designation are codified in our embargo laws, which continue to represent the most significant external obstacle for the Cuban people to fully benefit from the opportunities presented by access to the U.S. private sector."
He called on Congress to lift the embargo.
One priority the Cuban government has publicly pushed since Castro and Obama announced in December a restoration of diplomatic relations has been its removal from the watch list. Removal paves the way, experts say, for a lifting of the embargo.
The process of removing it from the State Department list required that Cuba vow not to have links with terrorism.
Being put on the list results in actions by the U.S. such as "restrictions on U.S. foreign assistance; a ban on defense exports and sales; certain controls over exports of dual use items; and miscellaneous financial and other restrictions," according to the State Department.
There will be fierce opposition to Cuba's removal in Congress, given that the House and Senate both have a Republican majority that generally objects to restoring ties with Cuba while Raul Castro is in power and while there are no tangible steps toward democratic reforms.
Some experts said that even if Congress opposes Cuba's removal from the list, and attempt to make it difficult to do so, or to create delays, Obama can proceed unilaterally with taking the nation off.
Indeed, delisting a nation always draws outcries.
When President George Bush announced plans to remove Libya and North Korea from the list after negotiations over their nuclear programs, critics said it amounted to making a deal with the devil.
The Associated Press contributed to this report.