White House Denies Targeting Swing States in Obama Travel Schedule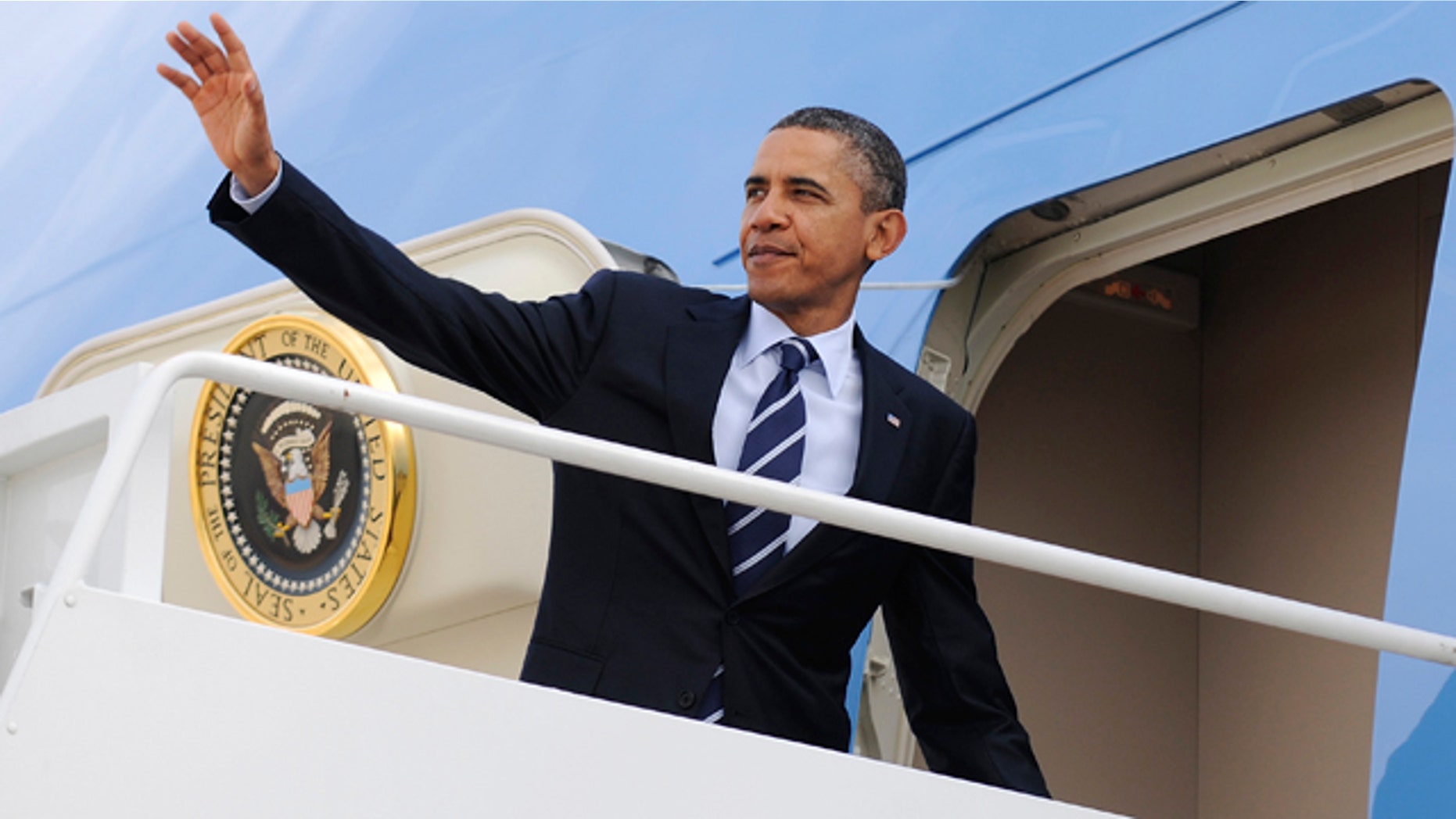 WASHINGTON – The White House on Monday rejected charges that President Obama is traveling on the taxpayer dime to campaign in swing states more frequently than any of his predecessors, saying a new study doesn't take into account that Obama "expanded the political map dramatically" in 2008 so that states not previously considered battlegrounds now are.
White House spokesman Jay Carney argued that a Wall Street Journal study that showed Obama has attended 54 events in 11 battleground states over 42 days between Jan.1 and Nov. 17, 2011, includes trips to places like Virginia, in the capital's backyard, and North Carolina.
"What happened in 2008 was Barack Obama, then-Senator Obama, expanded the political map dramatically," Carney said. "And every president who's occupied the Oval Office just a few short minutes across the river from Virginia travels to Virginia frequently to hold events."
Carney added that when George W. Bush was president, it "was not perceived to be possible that a Democrat could win" Virginia. At the same time, Carney contended, Bush traveled more frequently in the same time period than Obama to battlegrounds like Ohio, Wisconsin and Florida.
"If every president, whether it's President Obama or his successor, or any successor after that, were to simply say, 'Oh, I can't travel to any state that might be contested in the next election,' then the president would have to spend most of his time here in Washington, D.C. And I don't think that any president should do that," Carney said.
According to data compiled by Brendan Doherty, a U.S. Naval Academy assistant professor cited by the Journal, between Jan. 1 and Nov. 17 of his third year in office, Bill Clinton held 40 events over 24 days in the battlegrounds of his time. During the same period of Bush's administration, he held 49 events in 34 days.
"Obama has certainly ramped up the volume," said Doherty, author of a forthcoming book called "The Rise of the President's Permanent Campaign," told the Journal.
The research found that Obama has traveled 11 times to Virginia, 10 to Florida, eight to Pennylvania, seven to North Carolina, and four times to both Ohio and Missouri during the period cited. He also has been to Iowa and Michigan three times and to Nevada twice. He has been once to Indiana and Wisconsin.
Last week, Obama traveled to New Hampshire, the 12th battleground state and his 43rd day out of Washington. He heads to Scranton, Pa., on Wednesday for his 56th event.and his 44th day on the trail.
Presidential travel tied to official business is paid for by taxpayers, but partisan events come from campaign funds. When trips cover both types of events, the cost is split.
Carney said that a lot of factors go into decisions on where the president travels.
"Proximity has a lot to do with it," he said, noting that Virginia, Pennsylvania and other states are in the same time zone as D.C. "He can't always go to the mountain states or the plains states or the West Coast."
Carney added that some official events are located where it's logistically feasible in terms of facilities, or about policy, for instance, when he traveled to Ohio to emphasize a bridge that needed infrastructure repairs, or when he travels to veterans facilities.
"I mean, all of those factors go into deciding where the president travels," he said.
Carney added that he is "very confident" Obama will win Pennsylvania as he did by double-digit in 2008. He said he's not sure how Pennsylvania is considered a battleground.
Maybe it is, maybe it isn't. We don't take anything for granted," he said.
In all, Obama won 28 states plus the District of Columbia in 2008 while Sen. John McCain won 22 states. As for battlegrounds, he may want to shore up his appearances in the places he did win since those states have collectively lost more jobs since January 2009 than the McCain-won states.
According to data compiled by Fox News, 26 Obama states have lost more than 1.6 million jobs since he took office. Additionally, accounting for the differences in the size of the labor forces, the job losses in the Obama states are more severe than the job losses in McCain states on a percentage scale -- Obama states have lost 1.76 percent of the jobs they had in January 2009 compared to 1.15 percent of job losses in McCain states.
Put another way, in January 2009, about 70 percent of the jobs in the U.S. were in Obama states but 78 percent of the job losses since that time have occurred in those locations. The unemployment rate in the Obama states as a whole started higher  -- at 8.1 percent in January 2009. They are now at 9.2 percent as of October 2011.
McCain states had a combined unemployment rate of 7.2 percent in Jan. 2009, rising to 8.5 percent in October 2011.
Sean Spicer, a spokesman for the Republican National Committee, Told The Wall Street Journal that Obama has "been absent when it comes to leading" since he took office, but 
"when it comes to campaigning and saving his own job, he is front and center."