White House Denies 'Hiding' Meetings With Lobbyists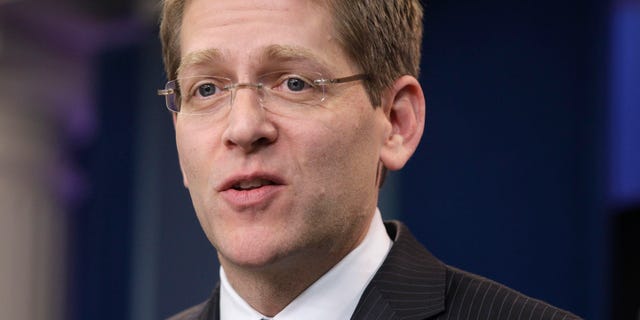 NEWYou can now listen to Fox News articles!
The White House on Thursday denied that aides were trying to hold secret meetings with lobbyists by conducting them in a building just off the White House campus.
The denial was in response to an article claiming the administration has been holding meetings at the Jackson Place complex near the White House -- lobbyists said they felt the White House was moving the meetings to keep their names off the official White House visitor list.
But White House Press Secretary Jay Carney described as "laughable" the idea that the administration was "hiding" its meetings with lobbyists.
"It is routine for the White House officials to meet with all types of people, including lobbyists, and frequently here," Carney said. "The suggestion that we are not being transparent is laughable given the unbelievable precedent this administration has set."
Carney touted the administration's efforts at transparency, including its decision to release to the public the White House visitor logs.
He rejected the suggestion that the administration was trying to keep lobbyists' names off that list. Carney said the West Wing office space is small and so the conference center at Jackson Place is used when a larger space is needed.
"The White House conference facilities are just that -- facilities for large meetings," Carney said. "They are also an option when rooms inside the complex don't have the capacity for a given meeting or are booked."
Lobbyist Tamar Jacoby told Fox News she has attended meetings both inside the White House and at Jackson Place. Jacoby said her assumption was that aides used Jackson Place when they didn't have enough room at the main complex.
But lobbyists told Politico.com that White House officials were concerned about being seen meeting the same lobbyists repeatedly.
"When they need us, they call us. When they don't, we're evil," one lobbyist was quoted saying.
The New York Times reported last year that another popular spot for meetings with lobbyists is a nearby Caribou Coffee.
Liberal advocacy group Common Cause urged the White House to disclose all its meetings with lobbyists.
"You can't have a policy for the front door of the White House and then sneak people in through a back door," Common Cause President Bob Edgar said in a statement Thursday. "We call on the administration to disclose all meetings with lobbyists, not just with those who come in the main entrance."