White House Considers Government Reorganization Amid Big-Spending Criticism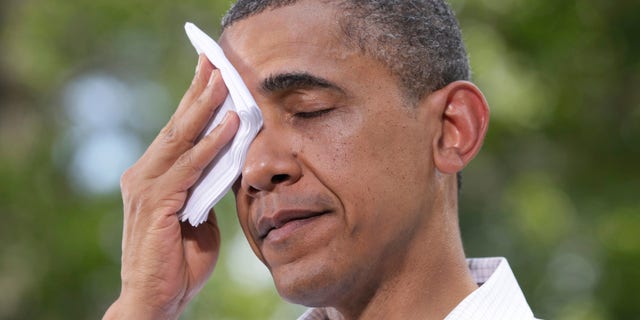 As President Obama borrows from the Republican playbook -- slamming the GOP for blocking a payroll tax holiday extension -- the White House is looking to downplay reports that a host of new economic programs are aimed at bringing big government back.
On Tuesday, White House aides rejected suggestions that a new department focused on creating jobs will turn into another new behemoth agency.
A new department -- potentially merging the Commerce Department, the office of the U. S. Trade Representative and some economic divisions at the State Department -- is an idea first brought up by the president during the State of the Union address earlier this year, aides say. In that address, the president called for a reorganization of government into a leaner, meaner and more responsive asset.
Aides note privately that it's unlikely any new department would be called the Department of Jobs or the Department of Competitiveness, as reported by The New York Times, because it would only feed GOP critics who say he waited too long to focus on jobs.
The White House and Treasury Department also tried to clean up the record on a report that the Obama administration is developing a proposal to maintain the government's significant role as an insurer of mortgages for most homebuyers, keeping the much-maligned Fannie Mae and Freddie Mac under executive tutelage.
One of the options is to restructure Fannie and Freddie as public utilities managed by a government regulator. Another option would be to close the lenders and replace them with numerous successors that would have their mortgage-backed securities guaranteed by the government in exchange for a fee. A third option is to wind down the lending giants and limit government's role in insuring loans to other agencies.
But the White House said no decision had been reached yet on one of three options presented earlier this year in an administration report to Congress.
"It is simply untrue that the administration has settled on a single proposal for the longer-term structure of the housing finance market," White House spokesman Jay Carney told reporters on Tuesday. "The article in question mischaracterizes a lot of the core housing and finance principles that the administration laid out in its February report to Congress."
Deputy Treasury Secretary Neil Wolin also issued a statement saying that the three options outlined in the report to Congress allow for the government's "footprint in the housing finance market" to "shrink substantially."
"For now, Fannie Mae and Freddie Mac are playing a critical role in providing support to a still-fragile housing market and making mortgage credit available. However, in each of the three options, Fannie Mae and Freddie Mac will be wound down on a responsible timeline," Wolin said.
At a rural issues forum in Iowa on Tuesday, Obama was joined by Agriculture Secretary Tom Vilsack and Small Business Administration Administrator Karen G. Mills to promote a host of new initiatives they say are aimed at the least-developed areas of the country.
"The amount of investment that this administration has made already and that we will continue to make with not just these announcements but a series of announcements that will take place over the course of the next several weeks and months are significant," Vilsack said, previewing the forum during a conference call on Monday.
Mills said the initiatives, some of which will be funded through doubling the rate of SBA investments over five years in businesses that build in rural areas, are neither small-bore nor an additional cost to taxpayers.
Separately, the president will unveil an economic plan next month to a joint special congressional committee that is certain to include a new round of stimulus spending on an extension of unemployment benefits and a payroll tax holiday.
The volley of new ideas and investments comes as the president tries to power up his re-election campaign with a three-state tour of the Midwest. Though not billed as campaign events, the feel of the tour -- including town halls and meet-and-greets -- has brought focus to the record he will run on in 2012.
That record includes three years of $1 trillion-plus deficits, military action in Libya, 9.2 percent unemployment and a months-long battle with Republicans over debt. It also includes a massive new health care law that won't go into full force until after the 2012 race.
With a host of new proposals on the horizon, the White House has agreed under pressure from the Republican-led House that the government must start paying down the nation's debt. At a town hall meeting Monday in Iowa, the president indicated there are no sacred cows when it comes to deficit reduction.
"Everybody has got to make sacrifices; there are programs that aren't working well," he said. "And sometimes there are those in my party who will defend everything, even if it's not working. Well, we do have to make some cuts on things that we don't need, and that allows us to invest in the things that we do. But there's got to be balance, and there's got to be fairness."
As the campaign season kicks into high gear, Republican candidates are sharpening their attacks, saying Obama has done little to get the economy moving after more than 30 months in office.
Texas Gov. Rick Perry, who catapulted to the top tier of candidates after a weekend entry into the GOP nominating contest, accused the Obama Labor Department and Environmental Protection Agency of restricting business growth with burdensome regulations.
Speaking in South Carolina on Tuesday, Rep. Michele Bachmann joked that her jobs plan is replacing the occupant of the White House. Addressing a federal-state dispute over building a new airplane manufacturing facility in South Carolina, Bachmann added that one issue she wouldn't pursue as president is prevent companies like Boeing from moving to so-called right-to-work states.
Fox News' Ed Henry contributed to this report.