Whiskey Rebellion? Kentucky Lawmakers Want Tax Change for Bourbon Distillers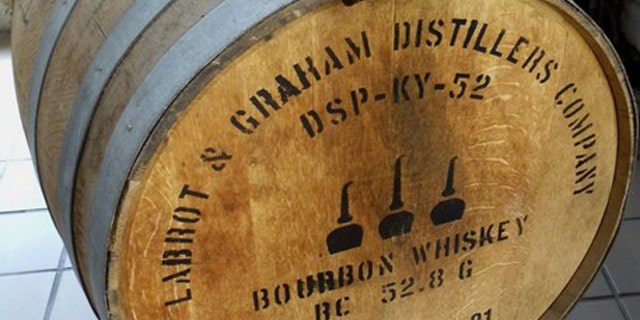 NEWYou can now listen to Fox News articles!
Call it a whiskey rebellion.
Kentucky lawmakers, citing the singular downside to aged whiskey, have proposed a bill aimed at correcting what they claim is unfair treatment in the tax code toward bourbon distillers.
The Aged Distilled Spirits Competitiveness Act of 2011, backed by the entire Kentucky House delegation, would overhaul a provision they say puts bourbon distillers at a competitive disadvantage against other sectors of the liquor industry.
The tax provision requires distillers to carry over costs associated with their inventory until the bourbon is ready to be poured into bottles -- meaning the distillers can't deduct those expenses until then.
But that process can take as long as 18 years. The more complex the flavor, the more costly the tax implications.
Bourbon manufacturers who lobbied for the bill say, with nearly 5 million barrels currently in the aging process in Kentucky, their industry is not on a level playing field with manufacturers of spirits that don't require natural aging -- like vodka or gin.
"Not only does it make our cost structure higher than it should be here in the U.S., but it affects our ability to be competing on the world markets," said Max Shapira, president of the Heaven Hill Distilleries.
Under the proposed law, distillers could deduct the interest expense to finance their inventory as it's incurred.
Rep. Geoff Davis, R-Ky., who introduced the bill along with Rep. Ben Chandler, D-Ky., described it as a measure to "protect jobs in one of the commonwealth's signature industries."
Kentucky produces most of the world's bourbon -- a product and industry the Kentucky Distillers' Association estimates is responsible for nearly 10,000 jobs in the state. The association, which supports the new bill, estimates Kentucky's distilleries ship $1.5 billion worth of the stuff ever year.
It's unclear whether the industry will be able to extract the tax benefit out of Congress at a time when lawmakers are desperately trying to hold down costs. The industry has previously tried to change the tax code, without success.
"We need to nurture the golden goose, not kill it," Chandler said in a statement.