NEWYou can now listen to Fox News articles!
During his first State of the Union address, President Donald Trump vowed to keep the Guantanamo Bay detention center open – a move that starkly contrasts the plans of his predecessor.
Since its opening 16 years ago, the Guantanamo Bay detention center in Cuba has imprisoned nearly 800 people. It has been decried by critics on both sides of the aisle who say the prisoners – alleged terrorists and people with suspected ties to terrorist organizations – suffer from human rights violations within its walls.
Trump said he signed an order directing Defense Secretary Jim Mattis "to reexamine our military detention policy and to keep open the detention facilities at Guantánamo Bay."
Former President Barack Obama vowed to shut down the detention site but dozens of prisoners still remain.
What is Guantanamo Bay?
The Guantanamo Bay Naval Base was built in 1898 during the Spanish-American War.
But the detention center, sometimes referred to as "Gitmo," opened more than a century later – in January 2002 – under former President George W. Bush as a place to detain and interrogate people with suspected links to terrorism in the wake of the 9/11 attacks.
According to the American Civil Liberties Union, 779 men have been imprisoned at the detention center since it opened. As of September 2017, 41 remain.
It costs more than $11 million a year to imprison a single detainee at Guantanamo Bay, according to data from the ACLU.
Why is it controversial?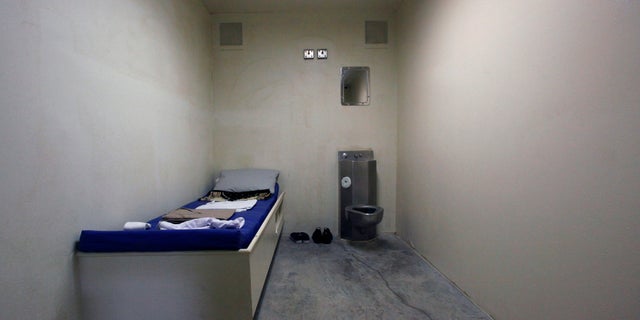 Keeping Guantanamo open is harmful to the U.S. in multiple ways, Chris Anders, deputy director of the ACLU Washington's Legislative Office, told Fox News.
"The problem with keeping it open is that it remains a symbol of the U.S. violating basic human rights of people picked up around the world," Anders said.
The ACLU has argued for closing the detention center as it detains suspects "without process" who are "interrogated without restraint."
Amnesty International, a London-based human rights organization, called Guantanamo a "symbol of torture, rendition and indefinite detention without charge or trial."
"While governments should of course protect citizens from the threat of terrorism, this threat should never be used to justify the violation of human rights or to repress legitimate opposition and dissent," the non-governmental organization said.
Additionally, Anders said, "National security officials in the intelligence community have been saying for years now that Guantanamo remains a potent recruiting tool for terrorists around the world."
"There's real consequences for a decision to keep Guantanamo open and block the transfer of Guantanamo detainees to the U.S. for trial," Anders added. "It's become this political football, and President Trump doesn't seem too ready to put that to an end."
What did Obama want to do?
Obama hoped to shutter the offshore detention site during his presidency.
He signed executive orders in 2009 to close the detention center over the course of a year as well as prohibit some of the harshest interrogation techniques.
Obama said he wanted to close Guantanamo to "restore the standards of due process and the core constitutional values that have made this country great even in the midst of war, even in dealing with terrorism."
While no detainees came to Guantanamo under the Obama administration, far fewer prisoners were released under his presidency than under Bush's, according to the ACLU's data.
What has Trump said?
Trump announced plans to keep the military prison open during his first State of the Union address.
Before he was running for president, Trump alleged, "Many of the released Guantanamo detainees are now fighting for ISIS and other enemy groups."
Trump said during his campaign that he planned to keep Guantanamo Bay open and "load it up with some bad dudes." Shortly before he took office in January 2017, he said on Twitter that there should be no further releases, adding that the prisoners are "extremely dangerous people and should be not allowed back onto the battlefield."
He also suggested that the man who ran down people on a crowded New York City bike path should be sent to Guantanamo Bay.
Anders praised the Justice Department for charging the suspected terrorist in federal court.
The Trump administration has not released or transferred anyone in Guantanamo or brought anyone in so far.
The Associated Press contributed to this report.