Westboro Baptist Church to Defend Military Funeral Protests Before High Court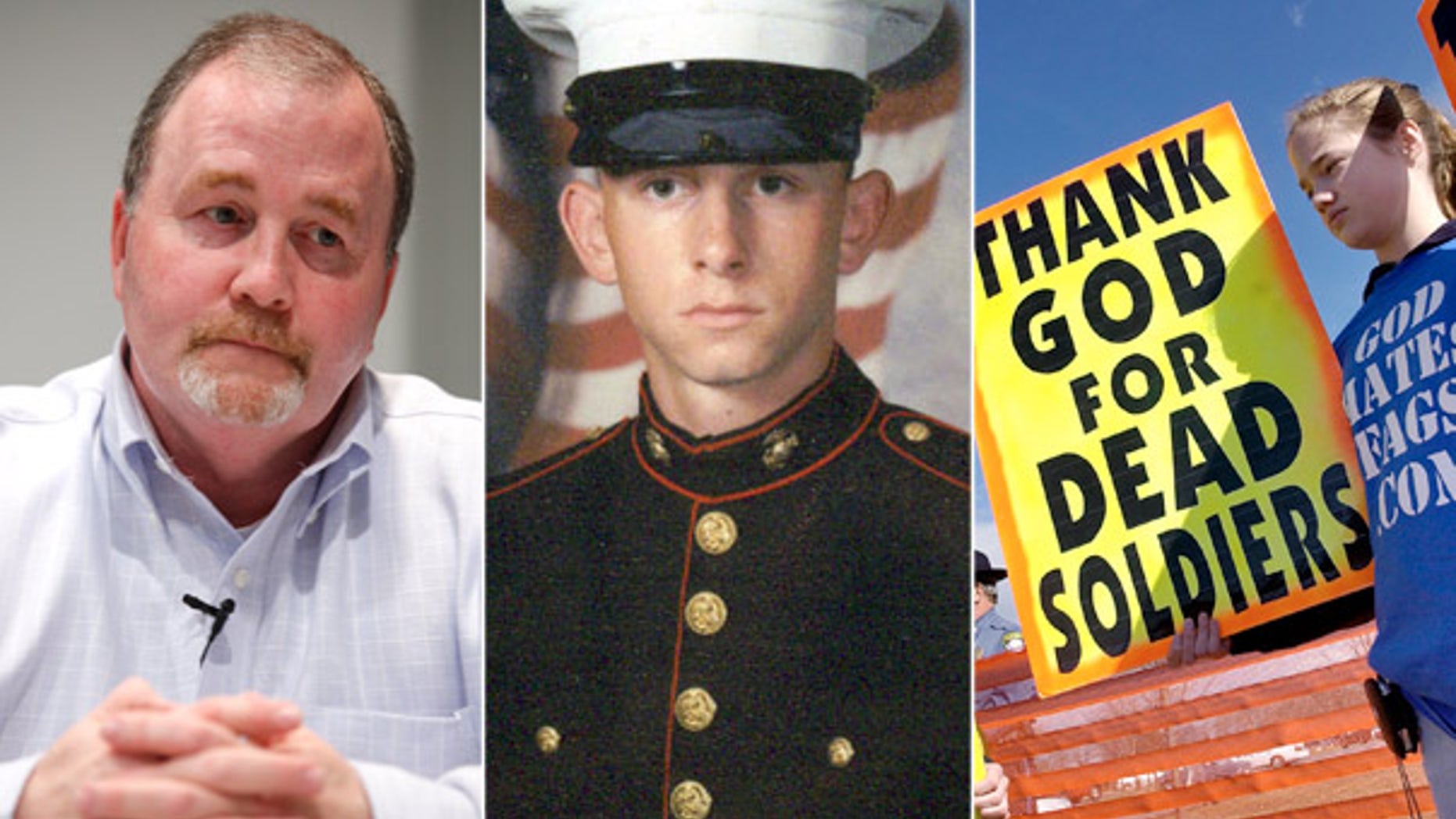 For parishioners of the Westboro Baptist Church, Wednesday's case at the Supreme Court is more than an hour of legal debate over the constitutionality of military funeral protests; it will also mark the end of their "I-70 GodSmack Tour" of protests across the country.
The group's last picket before they arrive at the court is scheduled to happen earlier in the morning at Arlington National Cemetery.
For many, the idea of protesting at any funeral -- let alone one for a member of the military -- is abhorrent, yet members of the Westboro Church proudly boast of having held more than 44,000 pickets at funerals and other events. They also strongly defend their First Amendment right to protest.
"This case is about a little church in Topeka, Kansas, engaging in public speech on a public right-of-way, about issues of vital public interest and importance," lawyer Margie Phelps wrote to the court defending the protests. She is also the daughter of church founder Fred Phelps and will argue the case before the justices.
Westboro's website says the legal dispute is about the "sovereignty of the Living God" and that those who fail to live up to God's standards should be punished. Phelps explains that their decision to picket funerals "is to use an available public platform, when the living contemplate death, to deliver the message that there is a consequence for sin." That sin in their view is homosexuality and all government policies they think support homosexuals.
Albert Snyder certainly didn't want anything do with that message in 2006 when he buried his Marine son who was killed in Iraq and was not gay.
"I want them to stop doing this to our military men and women," Synder said on Fox and Friends, Tuesday morning. "I want the judges to hear that this case is not about free speech, it's about targeted harassment."
In the days leading up to the funeral, Westboro parishioners, including Fred Phelps, notified local authorities of their intention to picket the service. They were kept 1,000 feet away from the church and because of the use of an alternative entrance for church-goers there was no disruption to the memorial. Seven protestors held numerous signs including some that read, "Thank God for Dead Soldiers," "God Hates Fags," and "You're Going to Hell." There were no arrests.
Snyder filed a lawsuit against Phelps based on the protest and a subsequent post on the Westboro website about his son Matthew.
"[Albert Snyder] became violently ill at the sight of the Phelpses' website and whose diabetes and depression worsened as a result of the Phelpses' intentionally harmful conduct," lawyer Sean Summers wrote to the court.
A jury awarded Snyder nearly $11 million in damages for the intentional infliction of emotional distress and invasion of privacy. That award was later cut in half and last year the Fourth Circuit U.S. Court of Appeal set aside the decision in its entirety ruling that the protests were absolutely protected by the First Amendment.
The Supreme Court is reticent to curtail free speech rights. Earlier this year, the court ruled 8-1 that a federal law cracking down on violent animal fighting videos was unconstitutional. Though in 2004, the court by a 5-4 margin ruled that cross burning is not a form of protected speech.
If the justices don't resolve the case on lesser technical matters, they will need to address the First Amendment conflict between the church-goers free speech rights and the free exercise and peaceful assembly protections for the father.
"The Phelpses' freedom of speech should have ended where it conflicted with Mr. Snyder's freedom to participate in his son's funeral, which was intended to be a solemn religious gathering," Summers told the court.
"The Constitution is imperiled if a subjective claim of outrage can be used to penalize into silence speech that does not make false statements of fact, uttered in public arenas on public issues," Rebecca Phelps wrote in her response that is also noteworthy for its personal attacks on Albert Snyder.
A group of 21 news organizations joined a brief defending Westboro's case. While calling their views "inexplicable and hateful," they express concern that a ruling against the church will chill the activities of anyone who wants to speak out on a controversial issue and "threatens to expand dramatically the risk of liability for news media coverage and commentary."
One of the media groups that joined the brief is Dow Jones whose parent company also owns Fox News.
A bipartisan group of senators including Majority Leader Harry Reid, D-Nev., and Minority Leader Mitch McConnell, R-Ky., joined in their own brief supporting Snyder. They argue that the church members are "free to convey their repugnant message in virtually any public manner they choose. But they were not free to hijack [Matthew Snyder's] private funeral as a vehicle for expression of their own hate."
All nine justices will hear Wednesday's case. Their opinion is not likely to come out before year's end.