West Virginia Republican Senate hopefuls near primary: A look at the top three candidates
Considered a toss-up in the midterm elections, the West Virginia Senate race is one where Republicans hope to have the chance to unseat incumbent Joe Manchin, a Democrat who first won the seat in a 2010 special election.
According to a Fox News poll, three Republicans are considered to be "top tier" candidates ahead of the May 8 primary: Don Blankenship, Evan Jenkins and Patrick Morrisey. Jenkins, a U.S. congressman, topped the list of Republican contenders.
Earlier this month, the candidates faced off in a Fox News debate, with each one trying to align himself with the president more so than the next. All three also maligned Special Counsel Robert Mueller's Russia probe.
Manchin is not running unopposed; he races a primary challenger in Paula Jean Swearengin, an environmental activist whose platform is more in line with Sen. Bernie Sanders, the progressive independent from Vermont.
President Trump beat Democrat Hillary Clinton by more than 40 points in the Mountain State in the 2016 presidential election. Trump has urged voters to support either Morrisey or Jenkins, saying Blankenship could not win the general election.
From their focus on former President Barack Obama's policies to their courtship of coal workers, here's a look at the top three Republicans competing for the GOP nomination today.
Don Blankenship
Don Blankenship, 68, was imprisoned in a federal jail for a year in 2016 after he was convicted of conspiring to violate mine safety and health standards -- and he's still fighting the conviction, blaming the Obama administration every step of the way.
Blankenship, the former head of Massey Energy Company, calls the 2010 explosion that killed 29 people at the company's Upper Big Branch mine the "worst tragedy of my life."
Blankenship has sought to have his conviction thrown out, and he's promoted a pamphlet he wrote in prison that he said sheds light on his prosecution, the explosion and an Obama administration conspiracy against him. He's also compared the tragedy to that of the 2012 Benghazi attack, calling the blast "Obama's deadliest cover-up" in a campaign ad.
He's been called the "villain of our times," compared to failed Alabama Senate candidate Roy Moore and dubbed "the most hated man in West Virginia." He's also been the nearly $745,000 target of the Mountain Families PAC which opposes his Senate campaign.
Despite running for Senate in West Virginia, his primary residence, according to The New York Times, is a $2.4 million home near Las Vegas.
As a candidate, Blankenship has a goal of hosting town hall meetings in every one of West Virginia's 55 counties, according to Politico Magazine. He's resonating with voters such as Rev. Becky Deitch, the chairwoman of the Brooke County GOP who told Politico, "The common man doesn't want another politician. I could tell from his handshake. He's real."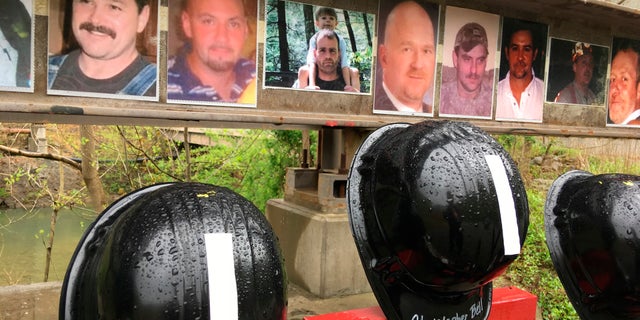 "I think the big issue in West Virginia is jobs, and I'm the guy that created a lot of jobs in West Virginia and neither of my … opponents did," Blankenship told Fox News. He also said he's "better positioned" to deal with the nation's opioid epidemic that has hit West Virginia particularly hard since his company dealt with workers who struggled with drugs.
A supporter of Trump, Blankenship advocates for building a border wall and ending so-called sanctuary cities.
However, Trump has urged voters not to support Blankenship, saying that he could not win the general election. That lack of support hasn't seemed to phase Blankenship, though.
"Neither of my opponents can beat Joe Manchin without my support, but I will beat Joe Manchin even without the support of the establishment," he said in a statement to Fox News. "West Virginia voters should remember that my enemies are Barack Obama and Hillary Clinton and my opponents would not even be running as Republicans had I not resurrected the Republican Party in West Virginia."
"As some have said, I am Trumpier than Trump and this morning proves it," Blankenship said of the president's tweet.
Blankenship got into some hot water during his campaign when he said Senate Majority Leader Mitch McConnell's father-in-law is a "wealthy China person." He has accused McConnell of creating jobs for "China people" and said his "China family" has given him millions of dollars.
McConnell has been married to Elaine Chao, the transportation secretary, since 1993. Chao was born in Taiwan, and her father was born in China.
Blankenship denied the comment was a "target on his family," but rather an "observation that Mitch's family is very well-connected in China."
In Fox News' poll of Republican Senate candidates, Blankenship came in third with 16 percent of likely voters saying they would select him. Still, 24 percent of voters remain undecided, according to the poll.
Evan Jenkins
Rep. Evan Jenkins has been a congressman for only three years, but before that, he served as a state senator in West Virginia for 12 years.
Jobs, coal, senior citizens and the Second Amendment are all important issues to Jenkins, according to his campaign website. He also focused on his anti-abortion record in his first television advertisement.
Jenkins, 57, helped create the nonprofit Lily's Place, a facility that cares for newborns who are born with neonatal abstinence syndrome (NAS), which occurs when babies are exposed to drugs while still in the womb.
Jenkins has made a point in his campaign to distance Manchin, one of the more conservative Democrats in Washington, from Trump. However, Jenkins, too, used to be a Democrat. He switched to the GOP in 2013. But that wasn't his only party switch; Jenkins was first a registered Republican until 1993, according to Roll Call.
As for jobs, Jenkins stressed the importance of coal growing the local economy in an interview with the Herald-Dispatch. He said he's worked with Trump on easing Obama-era regulations on the coal industry and has supported additional funding for clinics and healthcare services for miners who suffer from "black lung disease."
Jenkins told Fox News West Virginia needs a "new voice" to represent the state in the U.S. Senate.
"There's a clear choice," Jenkins said of the race. He accused Blankenship of "using his checkbook" to launch a "vendetta" campaign that's all about his name. As for the state attorney general, Patrick Morrisey, another Senate candidate, Jenkins called him "deeply flawed," "in the swamp" and for the opioid industry.
Jenkins has also stressed during the campaign that he supported Trump in the presidential primary, as opposed to the other candidates.
"We're starting to see hope and opportunity come back to West Virginia," Jenkins told Fox News, saying voters want someone "who's getting the job done, working with President Trump, bringing this renewed sense of confidence as proud West Virginians."
Jenkins leads the field of Republicans in Fox News' poll with 25 percent of likely voters saying they support him. However, 24 percent of voters are still undecided.
Patrick Morrisey
Patrick Morrisey is the first Republican to serve as attorney general in West Virginia since 1933, his campaign website boasts. First elected to serve in the position in 2012, he was re-elected in 2016.
Now Morrisey has his sights set on the U.S. Senate.
In his campaign, Morrisey, 50, has harped on his efforts as attorney general to curtail the state's opioid epidemic. He sued the Drug Enforcement Administration, saying it allows companies to not take into account patients' needs when selling drugs. And his office has reached settlements with pharmaceutical distributors for about $47 million, the largest in the state's history, according to his campaign website.
But his past work as a health care attorney and his wife's work as a lobbyist who has represented several pharmaceutical clients, including those involved in opioids, have come under scrutiny.
His wife's lobbying firm was also paid $460,000 by Planned Parenthood, the Charleston Gazette-Mail reported last year. Morrisey has said he is staunchly anti-abortion, opposing taxpayer dollars going to Planned Parenthood and supporting repealing Roe v. Wade.
In an interview with Fox News, Morrisey said he's worked with Trump to get rid of some Obama administration regulations and to "go after" sanctuary cities. He said he has an "excellent" relationship with the president.
"As voters focus the last two weeks, they're going to learn who is the proven conservative," Morrisey said, calling Jenkins a "political opportunist" who "stands for nothing."
Morrisey has been endorsed by the conservative National Review, which heralded him as a "rock-solid, independent-minded conservative who would be a valuable addition to the right flank of the Republican caucus."
Morrisey has also been endorsed by Republican Sens. Rand Paul of Kentucky and Ted Cruz of Texas.
He is just behind Jenkins, according to Fox News' poll, with 21 percent of likely voters throwing their support behind the attorney general.
Fox News' Peter Doocy contributed to this report.