Wells Fargo CEO faces lawmakers, apologizes again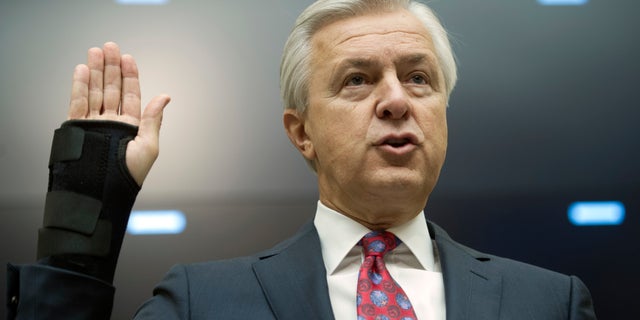 WASHINGTON – Wells Fargo's CEO, newly stripped of tens of millions in compensation in a scandal over sales practices, told angry lawmakers Thursday the bank is expanding its review of accounts and will evaluate executives' roles.
John Stumpf faced more bipartisan outrage from the House Financial Services Committee, following a grilling he received last week from a Senate panel.
"Fraud is fraud. Theft is theft," committee head Rep. Jeb Hensarling, R-Texas, told Stumpf.
Stumpf reiterated his word of last week, that he was "deeply sorry." He said the bank was looking at accounts further back, to 2009, and that bank executives' roles will be reviewed "across the board" in an inquiry by Wells Fargo's outside directors.
U.S. and California regulators have fined San Francisco-based Wells Fargo $185 million, saying bank employees trying to meet sales targets, opened up to 2 million fake deposit and credit card accounts without customers' knowledge. Regulators said they issued and activated debit cards, and signed people up for online banking without permission. The abuses are said to have gone on for years, unchecked by senior management.
Republican Representative Patrick McHenry, who represents North Carolina -- where Wells has a very large presence due to its purchase of Wachovia in 2008 -- was particularly incensed.
"You have broken long-standing ethical standards inside the company. How can you rebuild trust? How can you and your employees get through this?" McHenry said.
Stumpf noted new leadership at the retail bank business and the accelerated elimination of sales goals. He said no executives above the branch manager level appeared to be aware of the misconduct.
He also cited the compensation he must return. The Wells Fargo board said it is stripping Stumpf and the executive who ran the retail banking division of millions of dollars in pay. Stumpf, who earned $19.3 million last year, will forfeit $41 million in stock awards.
He also is giving up any bonuses for this year, as is Carrie Tolstedt, the former head of the retail operation. Tolstedt is forfeiting $19 million of her stock awards, and her planned departure was made immediate.
But Stumpf remained on the defensive before lawmakers, saying customers' loyalty to Wells Fargo remains as strong as ever. He also defended his dual roles as chief executive and chairman, positions that some critics have suggested should be split.
Members of Congress also pushed Stumpf on when he informed Wells Fargo's board about the sales practice scandal, and whether Wells may have violated Securities and Exchange Commission regulations by not informing investors.
Rep. Carolyn Maloney, a New York Democrat, asked Stumpf about his personal sales of company shares at a time when she said he apparently had learned about the fake-account sales practices. Stumpf said he sold the stock with the proper ethics approvals and "with no view" of any misconduct at the bank.
Stumpf also said Wells did not put language in their regulatory filings until this summer, three years after a Los Angeles Times investigation and a year after a Los Angeles City Attorney's lawsuit.
Stumpf again promised action to make things right for customers who were affected. Customers already have been refunded $2.6 million in fees slapped on unauthorized products, the bank says.
Whether the unusual takeback from his salary and stock will be enough to save Stumpf's job is hard to say, and his testimony Thursday could play a role.
It was "a step in the right direction, but there are still dozens of unanswered questions," said Sen. Sherrod Brown of Ohio, the Senate Banking Committee's senior Democrat. He and the other Democrats on the panel asked Stumpf on Wednesday to answer a series of 58 questions, including nearly two dozen that they said he failed to answer at the hearing last week or for which he promised to provide fuller information.
"We still don't know how many customers were harmed and how long this fraud continued," Brown said in a statement. "We also don't know how many low-paid employees got fired for failing to meet quotas that Wells Fargo now recognizes were too high."
The consumer banking giant, which is also the biggest U.S. mortgage lender, fired about 5,300 employees starting in 2011 in connection with the sales practices. Stumpf said all of the terminated employees were fired because of unethical conduct -- not because they failed to meet sales goals.
The outside directors on the bank's board didn't rule out the possibility of pursuing additional repayment from Stumpf or Tolstedt, depending on the results of an investigation they're conducting.
Few top bank executives have had their compensation clawed back in the years since the financial crisis starting in 2008. While unusual, the move by the board "was the right thing to do," said Charles Elson, a professor and director of the Weinberg Center for Corporate Governance at the University of Delaware.
Short of forcing Stumpf to resign, the board may move to split the CEO and company chairman roles that Stumpf holds, Elson suggested. Stumpf, CEO since 2007, added the chairman title in January 2010.