Weiner Opts for Treatment as New Self Portraits Emerge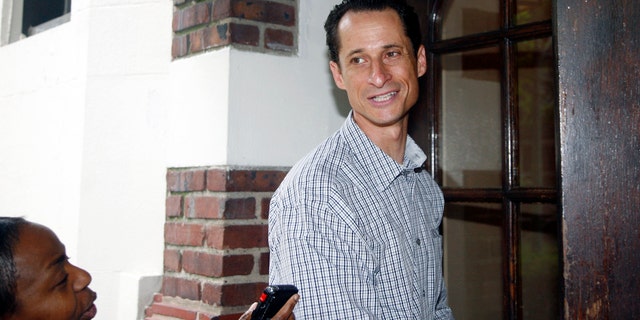 NEWYou can now listen to Fox News articles!
Dismissing calls by Democratic leaders for him to resign over a sexting scandal, Rep. Anthony Weiner says he's taking a leave of absence and checking himself in for treatment instead.
But as House lawmakers return to Washington to work this week, they are being inundated not only with questions about the New York congressman's online antics, but with more pictures of the congressman in various states of disrobe.
On Sunday, TMZ released 11 new pictures of the congressman, taken from what appears to be the House gym, a background which sets off more questions about the congressman's use of congressional facilities for less than official purposes. The pictures were taken by Weiner using the camera on his phone and a mirror.
Warning: Click here for TMZ photos of Rep. Anthony Weiner. Some pictures may be offensive.
Weiner's announcement Saturday that he would request a leave from Congress came shortly after several Democratic Party leaders, including Democratic National Committee Chairwoman Debbie Wasserman Schultz, demanded he quit.
"This sordid affair has become an unacceptable distraction for Representative Weiner, his family, his constituents and the House," Wasserman Schultz said.
Democratic leaders "have made clear that he needs to resign," Wasserman Schultz told NBC's "Meet the Press," on Sunday, adding that "at the end of the day a member of Congress makes their own decision."
House Minority Whip Steny Hoyer said Weiner's behavior "is a problem for the institution" of Congress.
"This is getting beyond ridiculous. I feel so sorry for (Weiner's wife) Huma and her family most of all. But we have got to get this behind us because it's a distraction. And so, yes, he should resign. I don't take pleasure in saying that. Because we have got important work to do. And this is just a ridiculous distraction," Hoyer said on CBS' "Face the Nation."
Some of Rep. Weiner's constituents say he should resign now over his sexting scandal, and they were planning a rally outside his district office. Weiner's 9th Congressional District spans parts of Brooklyn and Queens.
A quiet departure would enable Democrats to get back on message and not be disrupted by an embarrassment that only months ago led to the resignation of a Republican congressman whose seat turned over to Democrats in a special election last month.
Weiner's spokeswoman, Risa Heller, said in a statement that the congressman departed Saturday morning "to seek professional treatment to focus on becoming a better husband and healthier person. In light of that, he will request a short leave of absence from the House of Representatives so that he can get evaluated and map out a course of treatment to make himself well."
The statement did not say where or what type of treatment he was seeking. In order to take a leave of absence, a usually routine matter, the request must be sent to the House floor. This is usually a perfunctory, moot exercise, with no one objecting, but it is conceivable that his leave could face objection and not be granted. If so, a vote could ensue on the merits or demerits of granting leave, putting Congress in uncharted territory.
Weiner's decision to seek treatment followed his acknowledgement that he had exchanged online messages with a 17-year-old girl in Delaware, first revealed by FoxNews.com. Weiner and the girl's family attorney said nothing improper had passed between the two of them, and state police have closed the investigation.
But lawmakers asked to weigh in appear unwilling to go near the toxic Weiner.
"He's got to sort out his own life," Rep. Charlie Bass, R-N.H., said on CNN. "It's beyond anything I can comprehend what's happened here with him. And if I were he, I would resign from the Congress and make -- try to rebuild my life and move on."
Fox News' Chad Pergram and The Associated Press contributed to this report.