Wealthy businessmen under investigation for involvement in Chile campaign finance scandal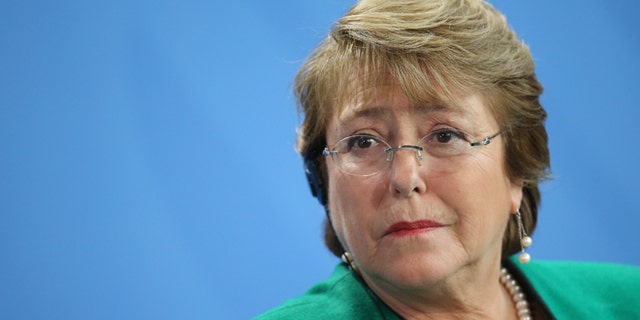 NEWYou can now listen to Fox News articles!
SANTIAGO, Chile (AP) – Prosecutors are asking a judge to charge the owners of a prominent Chilean financial company with bribery, tax evasion and illegally financing the campaign of right-wing politicians.
Attorney General Sabas Chahuan is seeking formal charges against Carlos Delano and Carlos Lavin, who own the Penta Group, which controls BanMedica, one of Chile's largest private health groups. He has also sought charges against former tax agency officers during three days of hearings that ended Friday.
"We not only want to catch the crooks, but also those who're serving a legion of crooks," Chahuan said at Friday's hearing, which was covered live on local TV.
Prosecutors are asking for Delano and Lavin to be placed in pre-trial detention while they conduct a more detailed investigation. A judge is expected to rule on whether to accept the charges Saturday.
"Penta represents a culture of evasion," said prosecutor Carlos Gajardo. "The Penta Group has become a machine to defraud tax authorities."
Delano and Lavin financed the 2013 electoral campaigns for candidates of the right-wing Democratic Union and National Renovation parties who were seeking seats in Congress. Members of both parties supported Gen. Augusto Pinochet's 1973-90 dictatorship and until recently several Pinochet-era officials served as lawmakers and mayors.
Delano and Lavin deny any wrongdoing.
"For being a professional fraudster I think I've been a very notable businessman, all modesty aside," Lavin said after one of the hearings. "So hearing these types of things is really unpleasant, out of place. They're presenting us like a mafia, as if we were Al Capone or something."
Chile's corruption is among the lowest in South America, the watchdog group Transparency International says. But trust in politicians has been eroded by the Penta case as well as a recent separate bank loan scandal involving President Michelle Bachelet's son. Bachelet's approval rating has plunged to its lowest level since she took office last year.
A prosecutor is investigating whether Bachelet's son, Sebastian Davalos, and his wife, Natalia Compagnon, got privileged access to a $10 million loan to buy land they later sold for about $15 million. The loan was granted after the couple met with a Banco de Chile vice president, Andronico Luksic, one of Chile's richest men. It was approved a day after Bachelet was elected president in December 2013.
Like us on Facebook