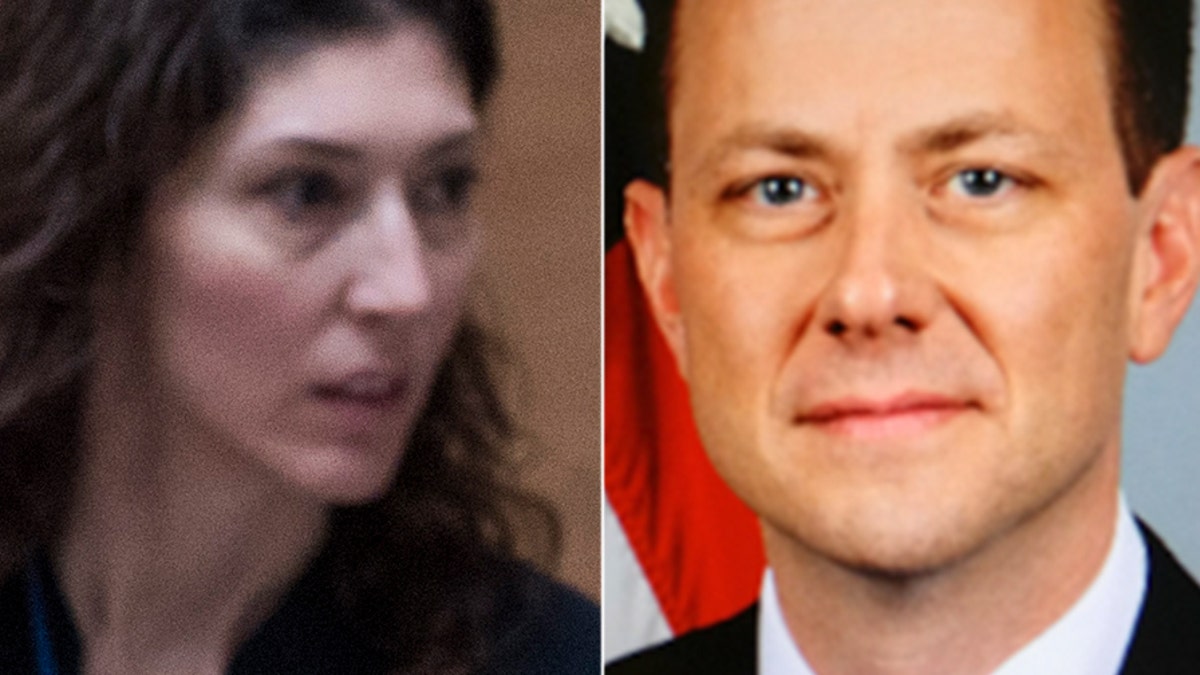 Deputy Attorney General Rod Rosenstein and Special Counsel Robert Mueller were told in July that two FBI officials working on Mueller's Russia probe had exchanged a number of anti-Trump text messages throughout the 2016 campaign, according to the Justice Department's watchdog.
DOJ Inspector General Michael Horowitz revealed the information one day after Fox News obtained more than 375 of the messages between Peter Strzok and Lisa Page. The messages were published ahead of Rosenstein's Wednesday appearance before the House Judiciary Committee.
Strzok, a former deputy to the assistant director for counterintelligence at the FBI, was fired by Mueller and reassigned to the FBI's human resources division after the exchanges with Page were discovered. Page was briefly on Mueller's team, but has since returned to the FBI.
In a letter to Senate Judiciary Committee Chairman Chuck Grassley, R-Iowa, and Homeland Security Committee Chairman Ron Johnson, R-Wis., Horowitz said his office requested text messages from the government-issued phones of several FBI employees involved in the Hillary Clinton email investigation.
Strzok played a key role in the email probe, changing former FBI Director James Comey's early draft language about Clinton's actions from "grossly negligent" to "extremely careless" and conducting the FBI interview of Clinton over the July 4 weekend in 2016.
According to Horowitz, "politically-oriented" text messages between Strzok and Page were found in his office's initial search. That led to the watchdog requesting all messages between the two through the end of last November. Those messages were produced by the FBI on July 20 of this year and Mueller and Rosenstein were informed about them a week later, on July 27.
The following day, Horowitz's office requested additional messages between Strzok and Page between December 2016 and July 28. Those messages were received on Aug. 10.
In all, more than 10,000 messages between Page and Strzok were turned over to the Justice Department watchdog. They included discussions of how to "protect the country from that menace," referring to President Trump.
One of the most notable messages, from Aug. 15, 2016, came from Strzok.
"I want to believe the path you threw out for consideration in Andy's office — that there's no way [Trump] gets elected — but I'm afraid we can't take that risk," said Strzok, possibly referring to then-Deputy FBI Director Andrew McCabe. "It's like an insurance policy in the unlikely event you die before you're 40."
The context of the message was unclear.
Another exchange, from April 2 of that year, appears to show efforts by Strzok and Page to conceal some of their conversations about Clinton during the height of the email investigation.
"So look, you say we text on that phone when we talk about Hillary because it can't be traced," Page wrote. "You were just venting, [because] you feel bad that you're gone so much but that can't be helped right now."
Fox News' Jake Gibson contributed to this report.