Watchdog knocks down Dem claim that liberal groups were targeted by IRS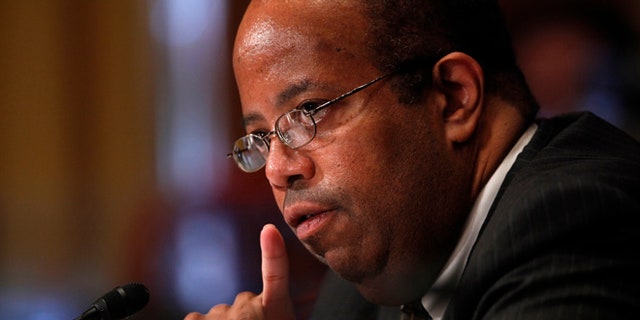 The government watchdog that exposed IRS targeting of conservative groups gave a blunt response to Democrats' claims that the agency also targeted liberals: It never happened.
"We found no indication in any of these other materials that 'Progressives' was a term used to refer cases for scrutiny for political campaign intervention," IRS Inspector General J. Russell George wrote in a letter to Democrats.
Democrats have since turned on the IG's office, claiming it is only telling half the story.
But Republicans used the letter, and a House hearing on Thursday, to counter that narrative -- getting the current IRS chief to confirm that, in fact, there's no evidence to date that progressives were targeted.
"So far, the evidence only shows conservatives being systematically targeted by the IRS," Rep. Dave Camp, R-Mich., said.
Camp pressed the issue as he questioned newly appointed IRS boss Danny Werfel. Citing the IG letter, he asked whether Werfel's own internal report contradicted the claim.
"No," Werfel said, while adding "more investigation" is needed.
The developments drew the ire of Democrats. Earlier this week, they seized on acknowledgements that progressive groups were also included on so-called "be on the lookout" lists at the IRS.
Rep. Sander Levin, D-Mich., maintained at the hearing that the "failure" of the IG report to originally disclose this was a "fundamental flaw" in their investigation. He said it "contributed to the distortion of the entire investigation."
Earlier, he said the IG was "not forthright."
Democrats argued that by leaving out the detail on progressive groups, it gave Republicans license to cast the scandal as politically motivated.
"Half of the story has been told for I think for a very political reason and that is to make conservative groups feel as though they are the only ones receiving this heightened scrutiny and treatment and that somehow it must be orchestrated by the White House," Rep. Linda Sanchez, D-Calif., said. "And we believe that that's completely false."
But the IG explained that, while liberal groups were on those lists, agents did not then single them out for additional scrutiny. George said this repeatedly in his letter to Levin, noting Tea Party and other conservative groups were processed as "potential political cases" 100 percent of the time.
Meanwhile, Republican lawmakers pressed Werfel over his agency's 30-day report that found no intentional wrongdoing at the IRS over the targeting.
"This report is a sham," Rep. Kevin Brady, R-Texas, said, adding that it was too "unsubstantial" to even call a "whitewash."