Washington State Senate bans open-carry guns in public gallery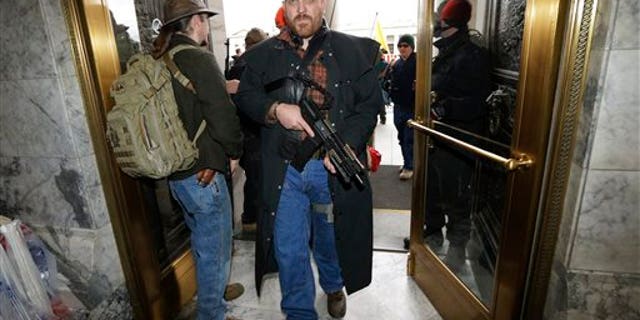 NEWYou can now listen to Fox News articles!
Lt. Gov. Brad Owen announced Friday that the public will no longer be able to openly carry firearms in the state Senate chamber's public viewing area.
Owen, a Democrat who also serves as president of the Senate, said a notice of the change will be posted outside the gallery at the Capitol, likely before Monday's floor session.
"We're just noting that open carry is a form of demonstration and it's no different than carrying a placard or something else of that nature," he said.
Democratic leaders in the House were also weighing whether to reassess how they interpreted current rules on openly carried guns in the chamber's public gallery. Those rules include prohibitions on applause and other forms of demonstration.
Owen said it didn't make sense to allow people to openly carry firearms while banning backpacks, signs and umbrellas.
"We're not going to treat them differently than everyone else," he said of open-carry advocates.
"I don't want the people who are on the floor being fearful of doing their job."
Owen's decision came a day after a dozen protesters went to the House gallery with their weapons after a gun-rights rally on the Capitol steps protesting a new voter-approved gun background check law.
The House floor was mostly empty because no bills or resolutions were scheduled for debate.
"I don't want the people who are on the floor being fearful of doing their job," Owen said earlier Friday. "I don't want parents concerned about the safety of their kids as pages."
House Majority Leader Pat Sullivan, a Democrat from Covington, said the issue of guns in the gallery has been discussed for years and more conversation will occur before a final decision is made in that chamber.
"This is a significant issue and one that we're going to be very careful and cautious about," he said.
Owen said he spoke with leadership from both caucuses in the Senate and had their support for his decision.
People could still bring their concealed guns into the gallery, as long as they have a concealed pistol license.
Alan Gottlieb, founder and chairman of the Citizens Committee for the Right to Keep and Bear Arms, said he was disappointed with the behavior of some of the protesters in the House gallery on Thursday.
Some handled their firearms in a way that was not safe and opened the door for lawmakers to react, Gottlieb said.
"I think it hurts our cause and sets us back," he said.
Before the Senate's decision, Gottlieb said his stance on any possible change to the chamber rules would depend on its wording.
"The devil could be in the details," he said. "But I understand the concern. I share it."
Gottlieb was not immediately available for further comment Friday evening.
Bob Calkins, a spokesman for the Washington State Patrol, said that Owen's office hasn't yet informed the patrol of the change. Calkins said that there will likely be a discussion in the coming days of potential legal and constitutional issues tied to the decision.
Earlier, Calkins said the agency was prepared to continue to allow people to openly carry weapons into the public galleries, but would require those who carry to keep their pistols holstered, and those with rifles would have to keep them pointed at the ceiling or floor. He said earlier that while lawmakers can change rules for their chamber, they "can't pass a rule for operation of their facility that violates the law or a constitution."
Rep. Jim Moeller, a Democrat from Vancouver who, as speaker pro tempore, often presides over the House when it's in session, said last year in a Facebook post that he would refuse to conduct state business if people were openly carrying guns in the gallery.
The "Moeller's Open Carry Challenge" Facebook page was created in response to his comment.
Frank Decker, a Vancouver resident who created the page, said any rule change would be unfair.
"There are a lot of people in our state that open carry not as a way to protest or to get attention or anything," he said. "It's their lifestyle, and the state constitution protects their right to do that."
Washington lawmakers have passed laws banning guns at courthouses, schools and bars, but have never restricted the right to bear arms in the Capitol.
At least one legislator in the past apparently thought carrying a gun helped him get a bill passed.
In 1982, then-Sen. Kent Pullen debated gun laws on the floor with a Smith & Wesson semiautomatic in his shoulder holster.
The Kent Republican, who died in 2003, was advocating a measure to allow gun owners to leave firearms in their cars.
The National Conference of State Legislatures in 2009 studied which state capitols had firearm restrictions.
Of the 42 states that responded to the survey, only Washington, Texas and Kentucky indicated they had no restrictions on carrying weapons at their capitols.
Eight states allowed people with concealed-weapons permits to have guns on capitol campuses, and the rest restricted firearms to law-enforcement and security staff.
Material from Seattle Times archives was included in this report.