Washington state officials to eye rules to ban pot at bars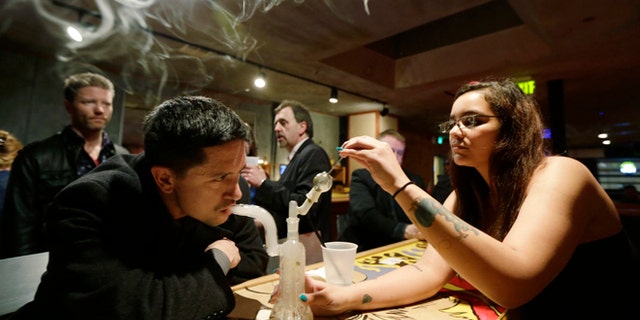 SEATTLE – Washington state officials said Wednesday it's not OK for bars to allow marijuana use, and they plan to take steps to address that.
The announcement from the state Liquor Control Board followed a report by The Associated Press about establishments in Olympia and Tacoma that allow people to get high on-site.
"It is important that the board clarify now that consuming marijuana in a state liquor-licensed establishment is not acceptable," said board chairwoman Sharon Foster. "Public consumption of marijuana is clearly illegal under Washington's new law."
Board members were also concerned about the prospect of people mixing alcohol and marijuana, then getting behind the wheel.
Washington legalized pot for adults last fall, but public display and use of marijuana is barred, punishable by a civil infraction carrying a $103 fine.
The Liquor Control Board's rules allow it to punish bars that let criminal activity happen on-site, but not bars that allow civil infractions. Regulators plans to address that loophole.
The board intends to require all liquor-license holders to ban marijuana use, said board spokesman Brian Smith. Violators could be hit with fines or see their licenses suspended or revoked.
"They don't want to see the proliferation of this type of activity," Smith said.
The board said it knew of only two bars that allow on-site pot use, and learned of both from media reports: Frankie's Sports Bar and Grill in Olympia, less than a mile from the board's headquarters, and the Stonegate in Tacoma.
An AP report on the two bars last week prompted Gov. Jay Inslee to call on the board to crack down.
The bars have tried to get around the ban on public use of marijuana by having "private rooms" with a nominal membership fee required for entrance. The Stonegate also tried to get around the state smoking ban by allowing only the vaporizing of marijuana -- a method that involves heating marijuana without burning it.
The upstairs marijuana bar at the Stonegate is run by Michael Schaef's Greenlight Expo, a medical marijuana dispensary. Medical marijuana patients can buy cannabis at the bar, but others have to bring their own and rent a vaporizer or pay to have one prepared for them.
"What the board has to understand is that people have always been mixing alcohol and cannabis," Schaef said. "If they don't allow this, what we are doing is forcing people to break the law by sneaking to some dark area to do it."
Jeff Call, the Stonegate's owner, agreed.
"They're just going to go out to the alley or their car," he said. "It seems like the board wants to steer it toward having separate pot clubs. You're just going to have pot clubs spring up next to liquor bars, and people are going to be going next door and then coming back over to the bar."
The board's action Wednesday begins the rule-making process. The board will take public comment before finalizing any rules.