Washington, D.C., Businessman Arrested on Suspicion of Ties to Pakistan Spy Agency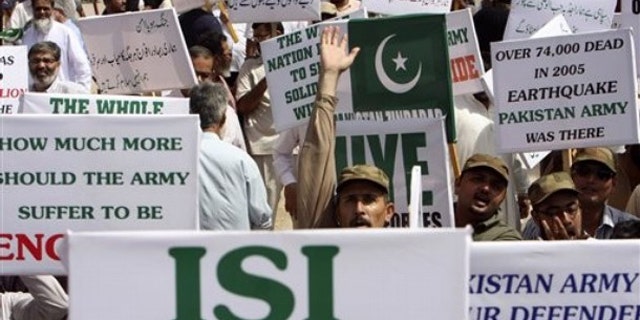 NEWYou can now listen to Fox News articles!
Federal authorities have arrested a Washington businessman for allegedly working on behalf of Pakistan's spy agency and other elements of the Pakistani government as part of what the Justice Department described as a "long-term conspiracy" to influence U.S. officials.
Syed Fai, a U.S. citizen living in northern Virginia, was expected to appear in court Tuesday afternoon to face charges of illegally acting as an unregistered foreign agent and conspiring to cover up the true nature of his work. He was charged in federal court along with Zaheer Ahmad, a U.S. citizen who is still at large and believed to be in Pakistan.
According to the Justice Department, Fai is accused of a "decades-long scheme" to cover up the Pakistani government's involvement behind his efforts to "influence the U.S. government's position on Kashmir."
U.S. Attorney Neil MacBride said in a statement that Fai's Pakistani handlers allegedly "funneled millions" through the Kashmiri American Foundation he heads to pay for conferences, contributions to elected U.S. officials and other efforts to promote the Kashmiri cause.
"Foreign governments who try to influence the United States by using unregistered agents threaten our national security," FBI official James McJunkin said in a statement.
Search warrants were executed earlier Tuesday at the suspect's office in Washington, D.C., and at his home in suburban Virginia. It is believed that he has ties to Pakistan's Inter-Services Intelligence, or ISI. According to the affidavit, Pakistan's intelligence agency transferred money to Fai for his work promoting Pakistan government interests.
"I believe that Fai has received approximately $500,000 to $700,000 per year from the government of Pakistan," the FBI said in an affidavit filed in federal court in Alexandria, Va.
The affidavit also noted that Fai denied a relationship with the Pakistani government when approached.
The phones at the Kashmiri American Council office in Washington rang unanswered Tuesday.
The Pakistani Embassy in Washington said it knew nothing about the matter.
"Fai is not a Pakistani citizen, and the government and embassy of Pakistan have no knowledge of the case involving him," the embassy said in a statement.
The case could further strain U.S.-Pakistan relations, which have been particularly rocky following the raid on Usama bin Laden's compound in May.
In addition, some say parts of the ISI have been aiding a terror group active in the region, Lashkar-e-Taiba, which was responsible for the 2008 Mumbai, India, attacks. More recently, there has been speculation the group may have had a hand in last week's bombings in Mumbai that left 21 dead.
Fox News' Mike Levine and The Associated Press contributed to this report.