Walker: No plans to build wall along US-Canada border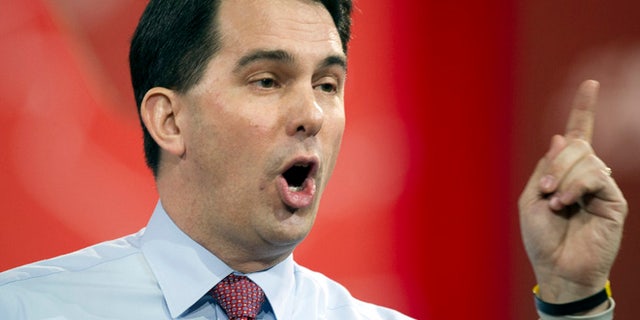 NEWYou can now listen to Fox News articles!
Wisconsin Gov. Scott Walker has a campaign update: No, he doesn't want to build a wall along the U.S.-Canada border.
Despite appearing to open the door to the idea in a weekend interview, the Republican presidential candidate told Fox News that's not in the playbook.
"I've never talked about a wall for the North. I'm certainly not now," Walker said Tuesday. He said he has, rather, consistently talked about the need to secure the southern border.
The candidate had faced bipartisan criticism on the matter for his response to a border security question, in an extended interview with NBC's "Meet the Press" posted online Sunday.
Asked about securing the northern border from terrorists and if "we want to build a wall north of the border," Walker said people in New Hampshire had brought that up with him.
"They have raised some very legitimate concerns, including some law enforcement folks that brought that up to me at one of our town hall meetings about a week and a half ago," Walker said in the interview. "So that is a legitimate issue for us to look at."
Sen. Rand Paul, R-Ky., in an interview with Boston Herald Radio, called the idea "ridiculous."
Mike Murphy, head of the pro-Jeb Bush Right to Rise super PAC, also mocked Walker for the remark on Twitter.
But Walker, asked about Murphy's tweet, told Fox News, "this is just a joke in terms of how people react to things" and claimed he wasn't talking about a wall.
Walker said the person in New Hampshire who discussed the northern border with him just talked about personnel.
"He talked about personnel, and I said it's a legitimate issue to look at, make sure there's enough staff," Walker said.